The Thought Processes of The Movie Whore
26
Feb
2010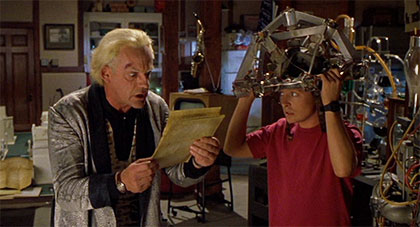 When I first sat down to write this piece it came out a bit scattered. I made adjustments; trim here, add there, move this up, slide this down. And you know what? It still came out scattered. The problem is not that I'm scatterbrained; it's because the way I choose which movie is going to win any given matchup is complicated. To explain this, I'm going to give you a look at what my decision making process looks like as I pit the number 1 film on Flickchart against my number 1 film: The Dark Knight vs. High Fidelity.
Here are a few things I look at when evaluating any film:
Is this good movie making gone horribly wrong?
Films that fall under this category would include the Indiana Jones and the Kingdom of the Crystal Skull and the Star Wars prequels. You have people who have all the funding in the world to make what should be at the very least an entertaining movie, and what you get instead is anger – and lots of it – from your audience. Let me put it this way: between the prequels and George Lucas going back and screwing with the originals, I'm done with the entire franchise. Strong words considering it was the original Star Wars (no, I'm not using any stupid additional titles because for me it will always simply be STAR WARS, so get over it) that I saw in theaters when I was 3 years old that created The Movie Whore I am today.
Is this good movie making done right – and I liked it?
There are just some movies that I really think are great films and I really did like, but I'm not in any hurry to watch them again. Think Leaving Las Vegas. While it's a great film and some of the best acting Nicolas Cage has ever done, it's damn depressing and I don't need to be that depressed that often.
Is this good movie making done right – and I can't wait to buy it?
The Shawshank Redemption is a perfect example of this and it happens to be my #7 film. I can't begin to tell you how many times I've caught the last 30 minutes of this film and it had my full attention. There are very few films I can think of that will get me to watch only part of the movie. Another example would be The American President. I've missed the beginning of this movie more times than I can count, and yet it never stops me from finishing it.
Is this bad movie making done right - and I can't wait to buy it?
I love Bruce Campbell. I love the B-movies he stars in, and it has everything to do with him. There are scenes in Evil Dead 2 where you can plainly see they're on a set, and I don't care. Bruce is what makes this film the cult classic it will always be. I can say the same thing about most of his career.
Is this bad movie making gone horribly wrong and I want to gouge my own eyes out because it would hurt less than watching another minute of this?
There are so many movies that can be thrown into this category. I would say 70% of the films made today fall into this category. The problem is that the technology to make a film is just affordable enough for any idiot to try and make a movie. Enough of these idiots either have money or are able to find money to get this crap made. Some investors love it when a film tanks because they get a tax write-off on the initial investment to begin with. That is how a lot of this crap sees the light of day.
Is this good or bad movie making  - and I connected with the story & characters in a personal way?
Clerks never should have seen the light of day – but it did – and when I saw it, I happened to be working in a video store connected to a minimart. I was living the movie. I was a combination of Randall and Dante. My top 20 is littered with these types of films that I can't get enough of because of that personal connection I have with each of them. I still swear to this day that the characters in Dazed and Confused are based off people I knew in high school.
So if you have been paying attention, you know which film I'm going to pick between The Dark Knight and High Fidelity – and now you know why. The Dark Knight is a brilliant film, but its dark edge makes it one I'm not always in the mood for. High Fidelity is a movie that should speak to anyone that has ever been dumped and it does it perfectly. John Cusack's character goes through moments that most have experienced at some point in their lives; it's what makes the funny moments funny, and what makes you laugh at the not-so-funny ones as well. Most of the films that I truly love are the films that have that personal touch to them. While it's always fun to escape into the land of fantasy from time to time, I find fictional reality to be entertaining at any time. It is that anytime entertainment that makes a lot of my decisions as I spend all my free time Flickcharting away.
This post is part of our User Showcase series. You can find Jim as The Movie Whore on Flickchart, and at his blog: themoviewhore.com. If you're interested to submit your own story or article describing your thoughts about movies and Flickchart, read our original post for how to become a guest writer here on the Flickchart Blog.