It can be tough deciding what movie to watch. We all have limited time and resources and can't be expected to watch every new movie that gets shoved into theaters. With this series I am hoping to help lead you through the often rocky cinematic landscape to avoid the duds and misfires that can soil one's love for the theater going experience. I will take what I assume will be the top 2 highest-grossing new releases, dissect their trailers, and then summarize who I think should see which movie. I'm not here to say which one will be better. I'm here to help you decide which will be better for you.
Matchup of the Day
William Hurt and Holly Hunter were born today.  They both starred in Broadcast News if you want to seem them work together (here's a Flickchart review of the film).  Or, you can try this Hurt vs. Hunter double feature:  

William Hurt made his motion picture debut with Altered States.  It comes from the mind of Ken Russell, who is known for his outlandish style.  If you haven't seen the movie, this montage set to the Jefferson Airplane song "White Rabbit" should give you an idea of what it's all about:   Read the rest of this entry »
Tags: !Women Art Revolution, A Lonely Place to Die, Altered States, Carl Reiner, Carnage, Creature, Crime After Crime, First Run Features, Flickchart Daily, Holly Hunter, Hop, Jess + Moss, Jitters, Louder Than a Bomb, One Lucky Elephant, Raising Arizona, Red Persimmons, Roadie, Sidewalls, Splintered, The Girl With the Dragon Tattoo, The Hills Have Eyes Part 2, The Legend of Awesomest Maximus, The Muppets, Tinker Tailor Soldier Spy, Treasure Chest of Horrors, Tuck Bushman and the Legend of Piddledown Dale, Warner Archive, William Hurt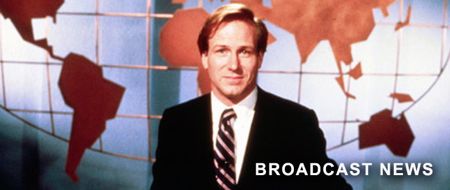 "Let's never forget, we're the real story, not them." That's the humble mantra of present day cable news, and it's also a key line in James L. Brooks wonderful 1987 comedy drama, Broadcast News.
Broadcast News just received the Criterion Collection Blu-ray treatment, and was accordingly re-released on DVD last week. The film follows three television news journalists played by Holly Hunter, William Hurt, and Albert Brooks. Hunter is a hot shot journalist who likes focusing on her career, but looks for sexual confirmation when it comes to being a woman.  Hurt plays as her serpent, appreciating her womanly allure, but willing to destroy her ethical standards. Brooks, who is also in love with Hunter, can see past Hurt's charm and knows what he truly represents, the biased pandering of news media.