There's no way I make it out of this week without spending $200 in Blu-rays. The car payment can wait.
Rank November 16th's Blu-ray and DVD releases against the best films of all-time
Lottery Ticket (DVD and Blu-ray | PG-13 | 2010)
In: New Releases
Tags: A Christmas Carol, Avatar, Best Worst Movie, Cats & Dogs: The Revenge of Kitty Galore, Clash Of The Titans, Daniel Tosh, Don't Look Back, I Can Do Bad All By Myself, Lottery Tocket, Metropia, Metropolis, Modern Times, Monte Walsh, Mutiny on the Bounty, Open Season, Robogeisha, Sherlock Jr, The Extra Man, The Good The Bad The Weird, The Human Centipede (First Sequence), The Jewel of the Nile, The Kids are All Right, The Last Airbender, The Lord of the Rings: The Fellowship of the Ring, The Night of the Hunter, The Polar Express, Zombie Strippers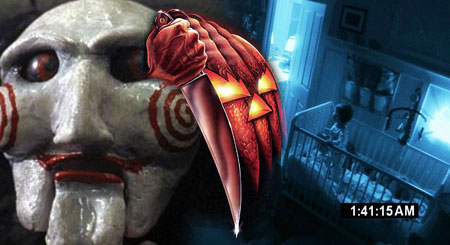 For most people, Halloween represents Trick-or-Treating, superfluous amounts of candy and dressing up in ridiculous costumes. But for film fans, it is the time of year when horror films are in abundance. This year, we've been given horror sequels such as Saw 3D and Paranormal Activity 2 and TVs are sure to be packed with the horror films that are to be expected, such as The Exorcist and The Shining. But for those looking for something a little different from the norm, here are some of the great under-ranked horror films on Flickchart that will surprise you this Halloween.
Tags: Anna Faris, Antichrist, Charlotte Gainsbourg, Chloe Moretz, Cloverfield, Feast, Frankenstein, Halloween, Jeremy Sisto, Katherine Heigl, Kodi Smit-McPhee, Lars von Trier, Let Me IN, Let The Right One In, Matt Reeves, May, Paranormal Activity, Project Greenlight, Richard Jenkins, Saw 3D, The Exorcist, The House That Drips Blood on Alex, The Human Centipede (First Sequence), The Room, The Shining, Tommy Wiseau, William Dafoe