By every possible scenario, Men in Black 3 should absolutely not work. The original Men in Black, released in 1997, was a box office blockbuster that caught everybody by surprise. On the other hand, its first sequel, released ten years ago, was a out-and-out disaster. Despite still being a box office success, many moviegoers felt cheated by what was essentially a rehash of the first movie with a weak villain (played by the usually capable Lara Flynn Boyle). Despite the issues with the second film, I was willing to give the new sequel a chance. After all, I already knew that if it was at least a step up from Men in Black II, then it would have already done its job. Well, surprise, surprise, the new sequel is not only a step above the previous movie, but it is also something else: A film almost as good as the original.
Tags: 1997, 2002, 2012, 3D, Alice Eve, Andy Warhol, Barry Sonnenfeld, Bill Hader, David Koepp, David Rasche, Emma Thompson, Etan Coen, Ghostbusters, Jeff Nathanson, Jemaine Clement, Josh Brolin, Lara Flynn Boyle, Men in Black, Men in Black 3, Men in Black II, Michael Stuhlbarg, Rip Torn, The Goonies, Tommy Lee Jones, Will Smith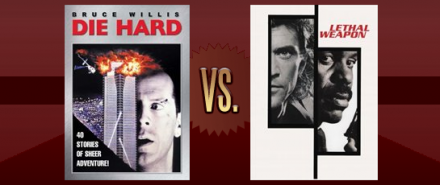 In This Corner…
It's beginning to look a lot like Christmas, which means many people will be turning their movie-watching attention to a lot of those feel-good holiday favorites. But for some, this is the most wonderful time of the year… for busting some heads. Nothing says peace on Earth like a good, old-fashioned, blood-pumping action flick, and this year we're entering the Reel Rumbles ring with a couple of the best. So get ready to deck the halls (and some thugs). It's time for Die Hard vs. Lethal Weapon.
In: Reel Rumbles
Tags: 1987, 1988, 48 Hrs., Alan Rickman, Alexander Godunov, Arnold Schwarzenegger, Bruce Willis, Christmas, cop out, Danny Glover, Die Hard, film, films, Gary Busey, John McTiernan, Lethal Weapon, matchup, Mel Gibson, Mitchell Ryan, movies, predator, Reel Rumbles, Reginald VelJohnson, Richard Donner, Rush Hour, Superman, Sylvester Stallone, Tango & Cash, The Goonies, The Omen, The Other Guys, Witness