Members of Monty Python's Flying Circus will be reuniting for a sci-fi comedy combining CGI and live action, to be directed by Python member Terry Jones.
Entitled Absolutely Anything, the film revolves around a group of aliens (to be voiced by the Pythons) who give an earthling the power to do "absolutely anything", just to see what chaos he can cause. Of course, chaos is exactly what happens. There will also be a talking dog named Dennis (voiced by Robin Williams) who will have a unique perspective on the mayhem that ensues.
Python members Terry Gilliam, John Cleese and Michael Palin have agreed to perform for the film, and producers are attempting to sign Eric Idle.
The script for Anything has been developed by Terry Jones and Gavin Scott over the course of two decades. "It's not a Monty Python picture," Jones has said of the project, "but it certainly has that sensibility."
Jones co-directed Monty Python and the Holy Grail with Gilliam, and was the sole director on Life of Brian and Monty Python's The Meaning of Life. Anything will be produced by Mike Medavoy, David Thwaites and Chris Chesser. Medavoy was a producer on Life of Brian, and his more recent producing credits include Black Swan and Shutter Island.
Absolutely Anything is expected to start shooting this spring in the U.K.
via Variety
Harrison Ford, as Indiana Jones, is an archaeologist who goes on a search for the mystical Ark of the Covenant, while outwitting Nazis who compete to obtain the Ark for its fabled supernatural power. Raiders of the Lost Ark is a movie that you need to see before you die.
Tags: Breck Eisner, Christopher Reeve, Flickchart, George Lucas, Harrison Ford, Indiana Jones and the Kingdom of the Crystal Skull, John Williams, Karen Allen, Matthew McConaughey, Paul Freeman, Penélope Cruz, Raiders of the Lost Ark, Sahara, Star Wars, Steve Zahn, Steven Spielberg, Superman II, Terry Gilliam, The Road Warrior, Time Bandits
Read on for this week's new DVD, Blu-ray, and Netflix Instant Watch titles.
New Releases:
The Imaginarium of Doctor Parnassus – (DVD & Blu-ray)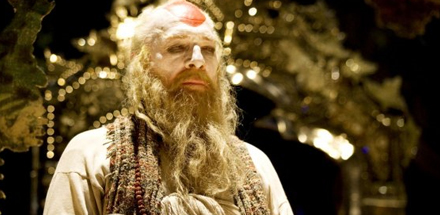 The latest from Terry Gilliam, and the last performance we'll see from Heath Ledger (until his 10 Things I Hate About You song and dance routine shows up via CGI in a vacuum commercial in 50 years like Fred Astaire). Aside from that (and the inventive/interesting plot), the main reason to watch this movie is Christopher Plummer. At 80 years old, he's probably not going to get the chance to do many more roles like this, and it's always nice to watch a true legend at work.
Flickchart's Global Ranking: #4073
Total Times Ranked: 2476
Percentage of Times Won: 63.56%
Users Who Have It In Their Top 20: 4
Directly rank it against (scroll over for match-up):
Good • Average • Terrible
In: New Releases
Tags: 10 Things I hate About You, Armageddon, Ben Affleck, Bruce Willis, Christopher Plummer, Cold Turkey, dick van dyke, District 13 Ultimatum, Dune, Elizabeth, Elizabeth the Golden Age, Five Minutes of Heaven, heath ledger, It's Complicated, Liam Neeson, Marlon Brando, Nancy Meyers is terrible at making movies, Out of Africa, Ride With the Devil, Sidney Lumet, Terry Gilliam, The Descent Part 2, The Fugitive kind, The Green Room, The Imaginarium of Doctor Parnassus, The Jackal, Tombstone, Traffic, Transylmania