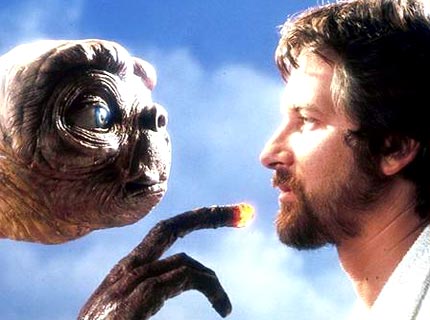 Since last fall's revamping of Flickchart's global ranking system (see the official announcement about that here), many films have found themselves moved around on the global charts. But one thing remains consistent: the Directors Who Dominate continue to do so. Previously covered in this series, Christopher Nolan and Quentin Tarantino remain at the top of the charts (with their highest-ranked films at #1 and #4, respectively.) But the biggest change is that their newest efforts (Inception and Inglourious Basterds) have a much stronger presence on the chart, where they now appear at #2 and #13. And this brings us to another director who continually dominates, the man who is widely regarded (for good or ill) as the father of the modern blockbuster: Steven Spielberg.
Tags: 1941, 1975, 1981, 1984, 1993, 2001, 2005, 2009, A.I.: Artificial Intelligence, Amistad, Best Picture, Box Office, Catch Me If You Can, Christopher Nolan, Close Encounters of the Third Kind, E.T.: The Extra-Terrestrial, Empire of the Sun, film, films, Flickchart, George Lucas, Gremlins, Harrison Ford, Hook, Inception, Indiana Jones, Indiana Jones and the Kingdom of the Crystal Skull, Indiana Jones and the Last Crusade, Indiana Jones and the Temple of Doom, Inglourious Basterds, James Bond, Jaws, jurassic park, Leonardo DiCaprio, Minority Report, movies, Munich, Peter Jackson, Quentin Tarantino, Raiders of the Lost Ark, Richard Dreyfuss, Robert Shaw, Roy Scheider, Saving Private Ryan, Schindler's List, Shakespeare in Love, Star Trek, Star Wars, Steven Spielberg, Super 8, The Adventures of Tintin: The Secret of the Unicorn, The Color Purple, The Lost World: Jurassic Park, The Terminal, Tom Cruise, Tom Hanks, War Horse, War of the Worlds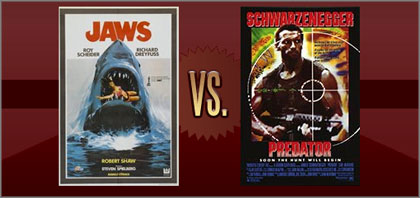 In This Corner…
Just when you thought it was safe to head back to the Flickchart Blog, another Reel Rumbles is here to determine once and for all what is scarier: a murderous great white shark on the loose in a small fishing village or a lone member of a mysterious alien race haunting the jungles of Central America? Separated by twelve years and undeniable advancements in special effects, this looks, on paper, to be a match for the ages. But is it really that close? Does testosterone-fueled action and a Die Hard pedigree trump master filmmaking and deep characterization? Read on and find out in Jaws vs. Predator.
In: Reel Rumbles
Tags: 1971, 1973, 1975, 1976, 1977, 1979, 1982, 1983, 1984, 1986, 1987, 1988, 2010, 52 Pick-Up, All That Jazz, Apollo Creed, Arnold Schwarzenegger, Blue Thunder, Carl Gottlieb, Carl Weathers, Commando, Die Hard, Elpidia Carrillo, Jaws, Jesse Ventura, Jim Thomas, John McTiernan, John Thomas, John Williams, Kevin Peter Hall, Lethal Weapon, Marathon Man, Moby Dick, monster, Nomads, Peter Benchley, Pierce Brosnan, predator, Reel Rumbles, Richard Chaves, Richard Dreyfuss, Robert Shaw, Rocky, Roy Scheider, Shane Black, Sorcerer, Steven Spielberg, Still of the Night, The French Connection, The Seven-Ups