"THE SCENT and smoke and sweat of a casino are nauseating at three in the morning. Then the soul-erosion produced by high gambling – a compost of greed and fear and nervous tension – becomes unbearable, and the senses awake and revolt from it."
This is how Ian Fleming introduced us to the world of James Bond in his 1953 debut novel, Casino Royale. We learn throughout the novel of Bond's background; he served as a naval intelligence officer during World War II where he proved himself more than capable. Fleming explains the basic machinations of MI-6, embellished of course with lots of cloak and dagger stuff borne of his own imagination.  Read the rest of this entry »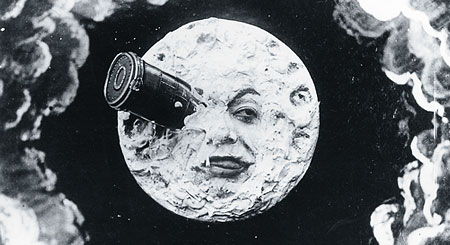 A few years ago, I realized that my knowledge of film history was very limited. My timeline of film began with Back to the Future, and I could tell you more about the films of Pauly Shore than those of Marlon Brando. So, with the acknowledgement that I was missing decades of great films, I decided to start way back at the beginning of film and work my way to the present, learning as much about film and watching as many movies as I could in the quest for cinematic enlightenment. Through this endeavor, I found some of the greatest films ever made, as well as learned an incredible amount about the history of film. I would like to share what I have learned so far in a chronological look at film I like to call "Flickchart Film School".
Tags: A Trip to the Moon, Alejandro Gonzalez Innaritu, Babel, Back To The Future, Broken Blossoms, Cecil B. Demille, Charles Chaplin, Crash, Douglas Fairbanks, Florence Lawrence, George Melies, Gertie the Dinosaur, Guy Maddin The Four Troublesome Heads, Intolerance, Kid Auto Races at Venice, Lumiere, Magnolia, Marlon Brando, Mary Pickford, Michel Gondry, Paul Haggis, Paul Thomas Anderson, Pauly Shore, Shoulder Arms, The Birth of a Nation, The Great Train Robbery, The Squaw Man, Tillie's Punctured Romance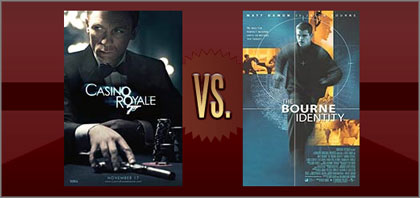 In This Corner…
This week's Reel Rumbles deals with the subject of kicking ass and taking names. And for this task there are no two men better qualified than James Bond and Jason Bourne. Both men got their start in the literary world – Bond in author Ian Fleming's iconic novels and Bourne in the 1980 novel by author Robert Ludlum. Though both writers are now deceased, they live on in two of the most recognizable characters in all of literature and film. While many have taken on the mantle of Bond over the last 50 years, none have done so with the intensity of Daniel Craig, who had some big shoes to fill in his 2006 debut. As for Bourne, Matt Damon had a much easier time making the role his own, with Richard Chamberlain his only previous competition from The Bourne Identity's 1988 mini-series. Both films are arguably the best in the history of their respective franchises, but which one wins head-to-head? Find out in Casino Royale vs. The Bourne Identity.
In: Reel Rumbles
Tags: Brian Cox, Casino Royale, Chris Cooper, Clive Owen, Doug Liman, EON Productions, Eva Green, Franka Potente, Go, Good Will Hunting, James Bond, Jason Bourne, Mads Mikkelsen, Martin Campbell, Matt Damon, Michael Clayton, Million Dollar Baby, Neal Purvis, On Her Majesty's Secret Service, Paul Haggis, Pierce Brosnan, Robert Ludlum, Robert Wade, School Ties, Swingers, Timothy Dalton, Tony Gilroy, W. Blake Herron