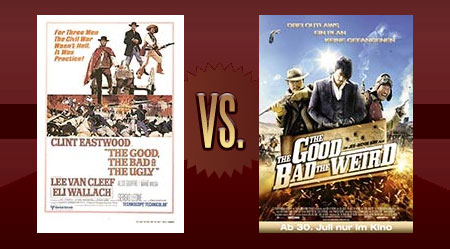 What's the greatest western ever made? More times than not, The Good, The Bad, and The Ugly will be near the top of that list. It  is heralded as one of the greatest, if not the greatest western of all-time. So what happens when a Korean film-maker decides to remake the film and change some things around? We get The Good, The Bad, The Weird. Let us get our ringside seats and watch a shoot-out, knock-down, good ol' western brawl.
In: Reel Rumbles
Tags: Clint Eastwood, Dalparan, Elli Wallach, Ennio Morricone, Jung Woo-sung, Kim Ji-woon, Korean films, Lee Byung-hun, Lee Van Cleef, Once Upon a Time in the West, Quentin Tarantino, Sergio Leone, Song Kang-ho, spaghetti western, The Good the Bad and the Ugly, The Good The Bad The Weird, Yoon Tae-goo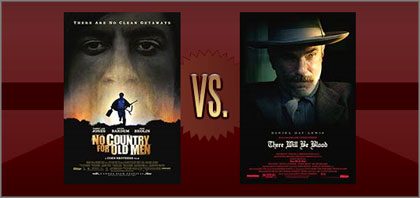 In This Corner…
Since the early twentieth century, greed has been a subject to fascinate filmmakers and movie audiences alike. It is a vice that can turn normal men into monsters. Like a plague, it spreads ever so easily to destroy the Host and the Innocent. The most notable starting point of greed on film is in Erich von Stroheim's silent work Greed (1924). Famous for its original ten-hour length, which was obliterated much to the director's chagrin by over seven hours worth of cuts, Greed explored in much detail how destructive the abstract can be. In this week's Reel Rumbles, the wages of greed are examined further by two modern classics, adaptations of the literary works of Upton Sinclair (Oil!) and Cormac McCarthy. Lie to friends, horde your wealth, and steal from family members – it's time for  No Country for Old Men vs. There Will Be Blood.
In: Reel Rumbles
Tags: 2008, adaptation, Barry Corbin, Best Adapted Screenplay, Best Director, Best Picture, Best Supporting Actor, Beth Grant, Blood Simple, Coen Brothers, Cormac McCarthy, Daniel Day-Lewis, ending, Erich von Stroheim, Fargo, Faustian, Greed, Javier Bardem, Josh Brolin, Kelly Macdonald, Margaret Bowman, Miller's Crossing, No Country For Old Men, novel, Oil!, Once Upon a Time in the West, originality, Oscar winner, Paul Dano, Paul Thomas Anderson, Reel Rumbles, Sergio Leone, Tess Harper, There Will Be Blood, thriller, Tommy Lee Jones, Upton Sinclair, violence, Woody Harrelson