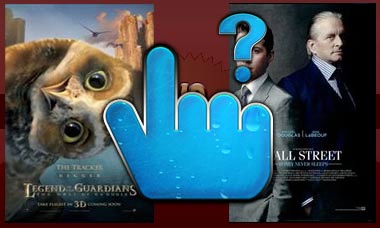 Do any of these films have a chance at becoming one of  the best movies of all time?
Animated owl movie directed by Zack Snyder and starring Jim Sturgess and Hugo Weaving. I think it looks like it's at least worth a watch on the eventual Blu-ray.
Solid Cast (Shia LaBeouf, Josh Brolin, Michael Douglas and Carey Mulligan) but this sequel just feels completely unnecessary to me.
Planning to see this movie, or already have? Directly rank it against these similar movies to see where it ranks for you amongst the best dramas of all time:
With Kristen Bell, Sigourney Weaver, Odette Yustman, Jamie Lee Curtis, and Betty White.
Planning to see this movie, or already have? Directly rank it against these similar movies to see where it ranks for you amongst the best comedies of all time: