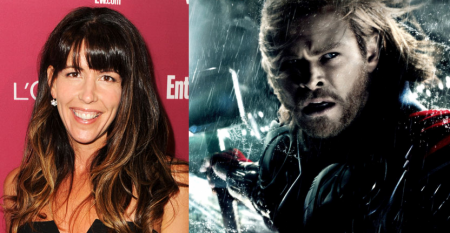 Marvel's sequel Thor 2 is already set for a 2013 release; now, they have a director. Patty Jenkins – probably best known for directing Charlize Theron to a Best Actress Oscar in Monster – will be helming the followup.
Other than Monster, Jenkins has directed episodes of TV series such as Arrested Development and Entourage. She was also nominated for an Emmy Award for her work on the pilot episode of AMC's The Killing.
This year's Thor, directed by Kenneth Branagh, grossed an impressive $181 million domestically, and helped prove that Marvel's movies have marketability even beyond their "major" superheroes like Spider-Man and the X-Men. (In fact, it is currently ranked #4 among The Best Marvel Comics Movies on Flickchart.) Star Chris Hemsworth just completed his second outing as Marvel's Norse superhero in The Avengers, directed by Joss Whedon and releasing summer 2012.
Thor 2 was originally slated for release on July 16, 2013, but now Disney and Marvel have moved it to November 15, two weeks before the Thanksgiving holiday. It will be an intriguing test, because Thor 2 will be the first Marvel Studios movie not to be released during the summer, and it will come up against stiff competition from The Hunger Games sequel, Catching Fire (opening Nov. 22), and "The Untitled Pixar Movie About Dinosaurs", opening Nov. 27.
(via HitFix)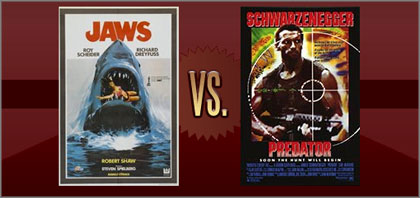 In This Corner…
Just when you thought it was safe to head back to the Flickchart Blog, another Reel Rumbles is here to determine once and for all what is scarier: a murderous great white shark on the loose in a small fishing village or a lone member of a mysterious alien race haunting the jungles of Central America? Separated by twelve years and undeniable advancements in special effects, this looks, on paper, to be a match for the ages. But is it really that close? Does testosterone-fueled action and a Die Hard pedigree trump master filmmaking and deep characterization? Read on and find out in Jaws vs. Predator.
In: Reel Rumbles
Tags: 1971, 1973, 1975, 1976, 1977, 1979, 1982, 1983, 1984, 1986, 1987, 1988, 2010, 52 Pick-Up, All That Jazz, Apollo Creed, Arnold Schwarzenegger, Blue Thunder, Carl Gottlieb, Carl Weathers, Commando, Die Hard, Elpidia Carrillo, Jaws, Jesse Ventura, Jim Thomas, John McTiernan, John Thomas, John Williams, Kevin Peter Hall, Lethal Weapon, Marathon Man, Moby Dick, monster, Nomads, Peter Benchley, Pierce Brosnan, predator, Reel Rumbles, Richard Chaves, Richard Dreyfuss, Robert Shaw, Rocky, Roy Scheider, Shane Black, Sorcerer, Steven Spielberg, Still of the Night, The French Connection, The Seven-Ups