Last year I decided it would be in my, and by extension your, best interest to do a year-end review in the Flickchartiest way possible. The four people who read it were very vocal about how it was an adequate way of spending their break at work therefore I decided to repeat the feat this year. Luckily for you I watched an absurd amount of movies this year – too many – and to make me feel like I didn't waste much of my time and money I will be doing a series of battles throughout the next few weeks. To get us warmed up for the ensuing blood bath, the first movie will be about a bunch of teenagers killing each other…
Women Be Shootin'

The Hunger Games was the first big release box office wise of the year. While it seemed to satisfy most of the diehard fans of the franchise many people who hadn't smashed through the books in 5 total days had reservations. The biggest complaint was that it took too many ideas from Battle Royale, but it also garnered a heavy amount of questions beyond potential idea borrowing. Why did the elite have such bizarre hair styles? Why did the citizens of District 12 give their children such dumb names? What the hell was going on in those shaky-cam action scenes? Am I not supposed to be disconcerted with the idea of children killing each other? Some of these complaints will be satiated by Gary Ross being replaced by a new director for the sequels. A director who hopefully doesn't keep his camera at the end of a rope that he is swinging around in a circle above his head.
Not to be outdone in the "first" department, Brave was the first big disappointment of the year for most people. Pixar has been spoiling us for so long that when they released a movie that was simply "good" we as a society rejected it and marked it as a major let down. While it had its problems I still think it was a good movie and a nice change of pace from the normal princesses that young girls get to see in movies. It's important that they see strong females on the screen whose sole purposes in life are not finding the perfect man.
In: Uncategorized
Tags: 2012, 21 Jump Street, Aaron Johnson, Abraham Lincoln: Vampire Hunter, Alex Pettyfer, Anna Karenina, Benjamin Walker, Brave, Channing Tatum, Chris Pine, Christopher Lloyd, Contraband, Daniel Day-Lewis, Daniel Radcliffe, David Hasselhoff, Emily Blunt, End of Watch, Ewan McGregor, Gary Ross, Gina Carano, Haywire, Jake Gyllenhaal, Jemaine Clement, Josh Brolin, Jude Law, Keira Knightly, Lincoln, LOL, Magic Mike, Mark Wahlberg, Matthew Macfadyen, McG, Men in Black 3, Michael Pena, Miley Cyrus, Mirror Mirror, Paul Scheer, Piranha 3DD, Reese Witherspoon, Salmon Fishing in the Yemen, Steven Soderbergh, Steven Spielberg, Tarsem Singh, The Hunger Games, The Oogieloves in the Big Balloon Adventure, The Woman in Black, This Means War, Timur Bekmambetov, Tom Hardy, Tommy Lee Jones, Ving Rhames, Will Smith
There are a ton of smaller movies on DVD and Blu-ray this week. Take a look…
Rank the week of January 18th's Blu-ray and DVD new releases against the best movies ever made:

Buried (DVD and Blu-ray | R | 2010)
Animal Kingdom (DVD and Blu-ray | R | 2010)
Look at that win percentage! From what I hear, imagine if Scorsese was Australian and this is what you'd end up with. This movie also furthers my theory that Guy Pearce is incapable of making a bad movie.
In: New Releases
Tags: Animal Kingdom, Army of Crime, Buried, Creation, Danny Trejo, Death Race 2, Down Terrace, Edward Norton, Emma Stone, Fire on th Amazon, Greg Kinnear, Guy Pearce, Hayden Christensen, Idris Elba, Jack Goes Boating, Jennifer Connelly, Lebannon, Mel Gibson, Miley Cyrus, Milla Jovovich, Paper Man, Paul Bettany, Phillip Seymour Hoffman, Robert De Niro, Ryan Reynolds, Samuel Fuller, Sandra Bullock, Sean Bean, Shock Corridor, Stone, Takers, The Last Song, The Naked Kiss, The Road Warrior, the virginity hit, Ving Rhames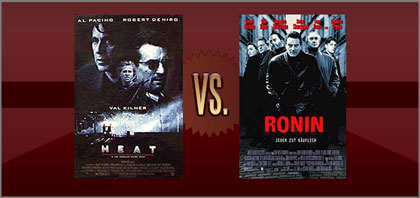 In This Corner…
His career as a director spanned seven decades, starting in the Forties with a small job on an early religious program and ending in 2000 with the action-mystery Reindeer Games. With such meager and lifeless bookends, one might question the abilities of director John Frankenheimer, who passed away shortly after his final film at the age of 93. But as poet laureate for Generation Z Miley Cyrus so eloquently sings, "It's the climb," and Frankenheimer's climb was one populated with a tense body of expertly crafted films that brought action and suspense to breathless new heights. His last great work paired him with a tight script and three brilliant actors for some of the most dizzying and fun car chases this side of The French Connection. But in this week's Reel Rumbles, Ronin has some fierce competition out of Michael Mann, another talented director, with a film that many consider to be his finest hour. A loose remake of his previous made-for-TV effort L.A. Takedown (1989), Heat won the praise of critics and audiences alike, and built a bridge between an overlooked cadre of masterpieces and a prominent career for the director that continues today. Study the blueprints, sync your watches, and get ready for the big score. It's time for Heat vs. Ronin.
In: Reel Rumbles
Tags: 1966, 1975, 1977, 1981, 1986, 1989, 1992, 1999, 2000, 2005, 2006, 40's, 52 Pick-Up, action, agent, Al Pacino, Ashley Judd, best of, Black Sunday, car chases, CIA, cops, crime, David Mamet, Dead Bang, European, Generation Z, Grand Prix, guns, Heat, Hollywood, J.D. Zeik, Jean-Claude Lagniez, John Frankenheimer, Jon Voight, Jonathan Pryce, Katarina Witt, King Kong, Last of the Mohicans, long runtime, Manhunter, Michael Mann, Miley Cyrus, Natalie Portman, Patrick Ronchin, Reel Rumbles, Reindeer Games, Richard Weisz, Robert De Niro, Ronin, Sean Bean, Stellan Skarsgard, stunt drivers, stunts, Ted Levine, The French Connection, The French Connection II, The Good Shepherd, The Insider, Thief, thriller, Tom Noonan, Tom Sizemore, Val Kilmer, Wes Studi