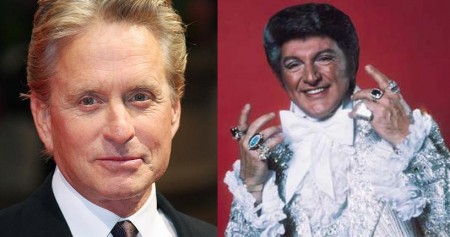 HBO has announced that Michael Douglas and Matt Damon will star in Behind the Candelabra, a biopic being directed by Steven Soderbergh. The film will focus on the relationship between flamboyant musician Liberace (Douglas) and his younger live-in lover, Scott Thorson (Damon).
One thing you can say about Soderbergh: He likes to keep his projects varied, if not his casts. Douglas previously worked with the director in Traffic, and Matt Damon seems to be replacing George Clooney as Soderbergh's go-to guy (having worked with him most recently in Contagion).
Behind the Candelabra is from a script by Water for Elephants writer Richard LaGravenese. Production is due to start summer 2012 in Los Angeles, Las Vegas and Palm Springs.
(via EW.com)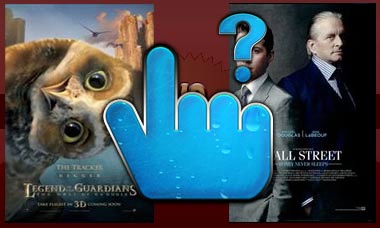 Do any of these films have a chance at becoming one of  the best movies of all time?
Animated owl movie directed by Zack Snyder and starring Jim Sturgess and Hugo Weaving. I think it looks like it's at least worth a watch on the eventual Blu-ray.
Solid Cast (Shia LaBeouf, Josh Brolin, Michael Douglas and Carey Mulligan) but this sequel just feels completely unnecessary to me.
Planning to see this movie, or already have? Directly rank it against these similar movies to see where it ranks for you amongst the best dramas of all time:
With Kristen Bell, Sigourney Weaver, Odette Yustman, Jamie Lee Curtis, and Betty White.
Planning to see this movie, or already have? Directly rank it against these similar movies to see where it ranks for you amongst the best comedies of all time:
In: New Releases
Tags: Betty White, Buried, Carey Mulligan, Enter the Void, Gaspar Noe, Howl, Hugo Weaving, Irreversible, James Franco, Jamie Lee Curtis, Jim Sturgess, Jon Hamm, Josh Brolin, Kristen Bell, Legend of the Guardians: The Owls of Ga'Hoole, Michael Douglas, Odette Yustman, Ryan Reynolds, Shia LaBeouf, Sigourney Weaver, Waiting for Superman, Wall Street: Money Never Sleeps, Woody Allen, You Again, You Will Meet a Tall Dark Stranger, Zack Snyder
In: New Releases
Tags: An American Werewolf in London, Ann-Margret, Ashton Kutcher, Being Michael Madsen, Big Nothing, Blood Into Wine, Bryce Dallas Howard, Carriers, Charlie Brown, Chris Evans, Dear John, Dog Day Afternoon, Elton John, Forbidden Planet, Frida, George Lucas, John Rabe, Katherine Heigl, Killers, Leslie Nielsen, MacGruber, Mars Attacks, Mel Gibson, Michael Douglas, Michael Madsen, Ransom, Robbie the Robot, Robert Altman, Scream, Solitary Man, St John of Las Vegas, Steve Buscemi, The Loss of a Teardrop Diamond, The Player, The Skeleton Key, THX 1138, Tim Burton, Tim Robbins, Tommy, Walter Pidgeon