The last hope to save mankind has failed and there are exactly three weeks left before the world will be destroyed by an 70-mile wide asteroid named Matilda. Dodge Peterson (Steve Carell) just wants to keep living his normal life, but how can he when his wife Linda (a blink-or-miss cameo from Nancy Carell, Steve's real-life wife) literally jumps ship as soon as the news comes in? He tries to act like everything is normal, but even that's impossible, and an attempted suicide only ends up pairing him with a cute dog to accompany his final days.
Tags: apocalyptic film, comedy, Connie Britton, Dan in Real Life, Derek Luke, drama, Keira Knightely, Lorene Scafaria, Martin Sheen, Melancholia, Melanie Lynsky, Nancy Carell, Patton Oswalt, Rob Corrdry, romantic comedy, Seeking a Friend For The End of the World, Steve Carell, T.J. Miller, William Petersen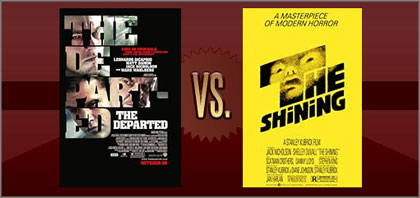 In This Corner…
Doesn't matter if you're shipping up to Boston or dropping by the Overlook Hotel for a cozy winter getaway, the films in this week's Reel Rumbles are sure to leave you blown away. For director Martin Scorsese, it was the film that finally earned him the respect of his peers. Uniting a stellar cast of hot new stars and old favorites, the auteur breathed his own style into the modern Asian classic Infernal Affairs (2002) with a tale of isolation and deception that struck chords with critics and delivered a shocking and graphic finale for audiences. But it has some stiff competition in the form of an unforgettable horror masterpiece from one of cinema's most influential directors, Stanley Kubrick. Sharing one star and a common theme on the dangers of isolation, Kubrick's adaptation of Stephen King's novel emblazoned horrifying imagery into popular culture and stands as perhaps his lead's finest hour. Believe your eyes. Watch your back. And beware of Jack Nicholson. It's time for The Departed vs. The Shining.
In: Reel Rumbles
Tags: 1976, 1980, 1990, 2002, 2007, Apocalypse Now, Best Picture, Boston, Danny Lloyd, Gangs of New York, GoodFellas, horror, hotel, Indiana Jones and the Kingdom of the Crystal Skull, Infernal Affairs, Jack Nicholson, King of Terror, Leonardo DiCaprio, Mark Wahlberg, Martin Scorsese, Martin Sheen, Matt Damon, Maximum Overdrive, Orphan, Raging Bull, Ray Winstone, Reel Rumbles, Scatman Crothers, Shelly Duvall, Stanley Kubrick, Stephen King, Taxi Driver, The Aviator, The Bourne Identity, The Departed, The Shining, Vera Farmiga