Created by Jerry Siegel and Joe Shuster, Superman debuted in Action Comics #1 in the summer of 1938. An instant sensation, Superman was quickly brought to radio in 1940 and hit the screen in 1941. With Man of Steel on the horizon, every movie and geek culture website on the Internet has reflected on his past movie adventures. What separates Flickchart from all the others is that our ranked lists aren't arbitrarily pieced together by a single writer, or even a select editorial team. Our empirical data comes from each and every Flickchart user, so we're pretty confident that our list of the Best Superman Movies is the most accurate. Here are the top ten.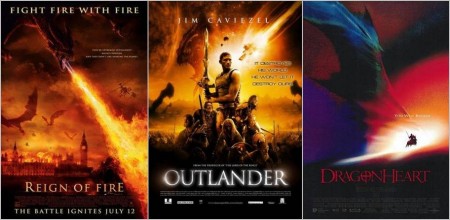 Dragons. Are there any cooler creatures in all of mythology? Unfortunately, in the world of celluloid, these great creatures of imagination have not really gotten their due. (At least, not in live-action cinema; why I have not yet seen How to Train Your Dragon is still beyond me.)
Is there any live-action film in which dragons have truly come off as cool as they deserve? Harry Potter and the Goblet of Fire wasn't too bad, but the dragons aren't the stars. As I impatiently await the day when Peter Jackson brings his vision of the ultimate dragon, Smaug, to life in The Hobbit, I think about other dragon-themed movies that I have enjoyed in the past. None of them are deserving enough to be called "great", but I'm very forgiving of movies I want to like. In one of these cases, I was the perfect age to see a dragon with real presence brought to life on the big screen – even if the movie he inhabited was far from perfect. Without further adieu, I present, in ascending order on my Flickchart, my picks for Guilty Pleasures starring dragons.
In: Guilty Pleasures
Tags: 1996, 2002, 2008, 300, Beowulf, Christian Bale, David Thewlis, Dennis Quaid, DragonHeart, Elektra, film, films, Flickchart, Gerard Butler, Harry Potter, heath ledger, Hellboy, How to Train Your Dragon, Howard McCain, James Caviezel, John Hurt, kevin spacey, Matthew McConaughey, movies, Outlander, Peter Jackson, predator, Randy Edelman, Reign of Fire, Rob Bowman, Rob Cohen, Ron Perlman, sean connery, Star Trek: First Contact, Sucker Punch, The Hobbit, The Lord of the Rings, The X-Files, Vin Diesel
We picked a pretty lousy two week stretch to open this column with. Last week's biggest release did $1.7 million at the US box office and this week's hit $8 million. By all accounts Bad Lieutenant and Pirate Radio (aka The Boat That Rocked) are good movies, they just aren't that sexy to kick a column off with (well, aside from stars Eva Mendes and January Jones).
So, here are this week's new DVD, Blu-ray, and Netflix Instant Watch titles. Each film will include their Flickchart global statistics (when available), as well as three direct links to rank the title against similar movies (one good, one average and one bad) to help nail down where the movie belongs on your chart.
In: New Releases
Tags: apollo 13, chris tucker, cliff robertson, Coen Brothers, Daniel Day-Lewis, defendor, dick van dyke, earth girls are easy, eric bana, eva mendes, fitzwilly, frantic, gemma arterton, Harrison Ford, henry fonda, hot fuzz, jackie chan, january jones, jay leno, Jim Carrey, kevin spacey, Lance Henriksen, love the beast, michael clarke duncan, Moon, nick frost, pirate radio, ronald reagan, rush hour 2, Sam Rockwell, sean connery, slammin salmon, The Bad Lieutenant: Port of Call New Orleans, the best man, the great mouse detective, the man who wasnt there, the offence, the unbearable lightness of being, Timothy Dalton, Tom Hanks, vincent price, Woody Harrelson