It's the first of the month, which means there is a crazy amount of turnover on Netflix Instant Watch this week. There's definitely something for everybody, take a look:
Netflix Instant Pick of the Week:
Flickchart Ranking: #651
Times Ranked: 5530
Win Percentage: 55%
How Many Top-20′s: 4 Users
Starring: Walter Matthau, Robert Shaw
Tags: Adam Sandler, Aeon Flux, All About Eve, Amanda Seyfried, Arnold Schwarzenegger, Basic Instinct 2, Bill Murray, Charlie's Angels, Chloe, Chris O'Donnell, Chris Rock, Cliffhanger, Cloak and Dagger, Cool World, Doris Day, Drew Barrymore, Fargo, Frances McDormand, Frankenstein, Good, Grown Ups, Hard Eight, Jason Isaacs, John Candy, Julianne Moore, Last Action Hero, Laura Dern, LL Cool J, Michael Rooker, Monsters, Nicolas Cage, On The Waterfront, Over the Top, Paint Your Wagon, Paul Lynde, Popeye, Rain Man, Robert Shaw, Robin Tunney, Rock Hudson, Rozanne, Send Me No Flowers, Sharon Stone, Southland Tales, Stallone, Stripes, The King of Kong, The Lady From Shanghai, The Quick and the Dead, The Taking of Pelham One Two Three, The Warriors, Tom Noonan, Tony Randall, Top Gun, Universal Soldier, Vertical Limit, Viggo Mortensen, Walter Matthau, Wild at Heart, William H. Macy, World Trade Center
Wednesday, June 23rd:
Knight and Day (Wide Release) – Trailer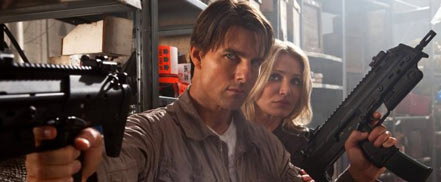 I am oddly intrigued by this film. The trailers are such a weird mix of boring cliches and infectious Tom Cruise swagger that it's got to be worth a watch somewhere down the road. Plus the director, James Mangold, seems to have good taste in what to helm; so I find it hard to believe he would captain a sinking ship.
Friday, June 25th:
Grown Ups (Wide Release) – Trailer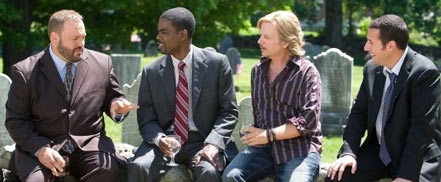 I envy the leads in this movie so much. They get paid millions upon millions of dollars to goof around with their buddies all day.