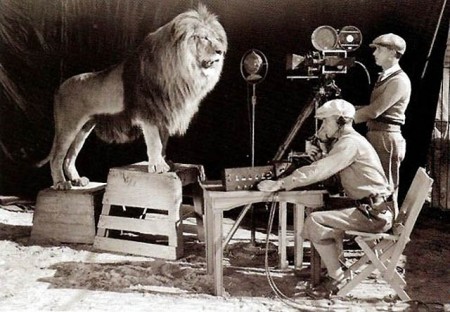 In 1924, two of cinema's most famous film studios were created. Three companies, Marcus Loew's Metro Pictures Corporation, Goldwyn Pictures Corporation and Louis B. Mayer Picutres Company combined to form MGM. The first film under the MGM banner was Lon Chaney's He Who Gets Slapped, which would also be the first film to begin with the infamous lion roar that would be the logo for MGM for decades after. In the same year, brothers Jack and Harry Cohn and Joseph Brandt would change their C.B.C. Film Sales Company into the Columbia Film Corporation.
Tags: 1924, 1925, Aelita: Queen of Mars, Buster Keaton, Charlie Chaplin, Columbia, Douglas Fairbanks, Eisenstein, Erich von Stroheim, Ethel Barrymore, F.W. Murnau, Greed, He Who Gets Slapped, Karl Freund, Lita Grey, Lon Chaney, MGM, Sherlock Jr, Strike, The Gold Rush, The Last Laugh, The Navigator, The Thief of Baghdad, Thomas Ince, Time Magazine, Ward Crane, William Randolph Hearst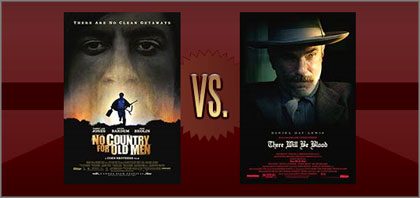 In This Corner…
Since the early twentieth century, greed has been a subject to fascinate filmmakers and movie audiences alike. It is a vice that can turn normal men into monsters. Like a plague, it spreads ever so easily to destroy the Host and the Innocent. The most notable starting point of greed on film is in Erich von Stroheim's silent work Greed (1924). Famous for its original ten-hour length, which was obliterated much to the director's chagrin by over seven hours worth of cuts, Greed explored in much detail how destructive the abstract can be. In this week's Reel Rumbles, the wages of greed are examined further by two modern classics, adaptations of the literary works of Upton Sinclair (Oil!) and Cormac McCarthy. Lie to friends, horde your wealth, and steal from family members – it's time for  No Country for Old Men vs. There Will Be Blood.
In: Reel Rumbles
Tags: 2008, adaptation, Barry Corbin, Best Adapted Screenplay, Best Director, Best Picture, Best Supporting Actor, Beth Grant, Blood Simple, Coen Brothers, Cormac McCarthy, Daniel Day-Lewis, ending, Erich von Stroheim, Fargo, Faustian, Greed, Javier Bardem, Josh Brolin, Kelly Macdonald, Margaret Bowman, Miller's Crossing, No Country For Old Men, novel, Oil!, Once Upon a Time in the West, originality, Oscar winner, Paul Dano, Paul Thomas Anderson, Reel Rumbles, Sergio Leone, Tess Harper, There Will Be Blood, thriller, Tommy Lee Jones, Upton Sinclair, violence, Woody Harrelson