This has been a huge week for new releases. Too big for one column. Check out our post on this week's earlier list of new Netlfix Streaming movies.
New to Instant Streaming On Sunday May 1st
Flickchart Ranking: #4
Times Ranked: 549740
Win Percentage: 76%
How Many Top-20′s: 11762 Users
________________________________________________
Directed By: Quentin Tarantino
Starring: John Travolta •  Uma Thurman •  Bruce Willis •  Amanda Plummer •  Eric Stoltz
Genres: Crime •  Crime Comedy •  Ensemble Film •  Gangster Film
• • • • • • • •
Tags: BASEketball, Chasing Amy, Cinema Paradiso, Dead Man, Ffolkes, Game of Death, Ghost Story, Heaven Can Wait, Leaves of Grass, Maverick, Netflix, Netflix Instant Watch, Nighthawks, Pulp Fiction, Raging Bull, Sin City, Speed, The Crow, The Thomas Crown Affair, They Live, Tremors, Tsotsi, Wet Hot American Summer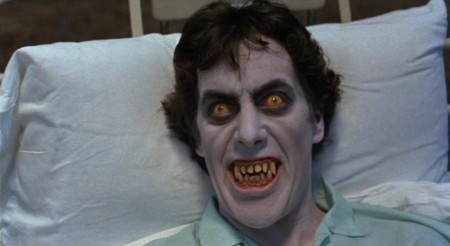 There are a select few "one of a kind" movies left for viewers to find. Especially in Hollywood, where most successful formulas are quickly copied and watered down by a plethora of posers who hope they can make a quick buck. This is particularly true of the horror and comedy genres, where low budget films can make back their money quickly regardless of quality. Despite the vultures, there are still a few films that have a tone that's all their own. One such film is An American Werewolf in London.
Tags: 1981, An American Werewolf in London, Claude Rains, Coming to America, David Naughton, Dead & Buried, Dog Soldiers, escape from new york, Evil Dead II, Excalibur, Friday the 13th, Ghost Story, Ginger Snaps, Griffin Dunne, Halloween, Jenny Agutter, John Belushi, John Landis, Lon Chaney Jr., My Bloody Valentine, National Lampoon's Animal House, Raiders of the Lost Ark, Re-Animator, Shaun of the Dead, Spies Like Us, The Blues Brothers, The Evil Dead, The Howling, The Road Warrior, The Wolf Man, Van Helsing, werewolf, werewolf films, Zombieland