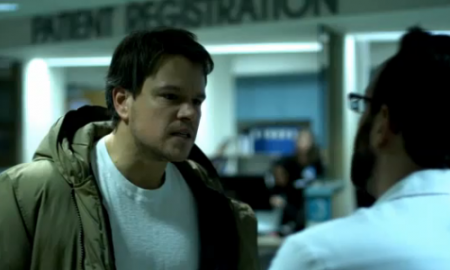 The only flaw to Contagion - if it is a flaw in the eyes of director Steven Soderbergh – is that there is very little audience connection to the characters. The film is framed as if we are looking down and instead of seeing people, watching growth inside of a petri dish. And it fits to some degree because Contagion acts not as a story, but a cold, lab-engineered, sterilized cautionary reminder of human behavior.  Read the rest of this entry »
Welcome to your one-stop place to learn all about the week's newest movie trailers!
Contagion (9-9-2011)
[youtube]http://www.youtube.com/watch?v=bdzWcrXVtwg&fs=1&autohide=1&hd=1[/youtube]
DIRECTOR: Steven Soderbergh
CAST: Matt Damon, Marion Cotillard, Kate Winslet, Gwyneth Paltrow, Bryan Cranston, Jude Law, Laurence Fishburne, John Hawkes
FLICKCHART FUTURE: It could either be Children of Men or The Happening. Fishburne's line about birds has me fearing it's going to lean more towards The Happening but that cast is too good to waste on junk, right?