In 1923, one of Hollywood's most famous landmarks was created. The HOLLYWOOD sign, which originally said HOLLYWOODLAND, was built for only $21,000 over the Hollywood Hills. The famous sign was originally created to help raise home sales in Beachwood Canyon.
Tags: A Woman of Paris, Buster Keaton, Cecil B. Demille, Charlie Chaplin, Charlton Heston, Dave and Max Fleischer, Fred C. Newmeyer, Harold Lloyd, Lee de Forest, Lon Chaney, Mildred Davis, Our Hospitality, Safety Last!, Sam Taylor, Sherlock Jr, The Covered Wagon, The Einstein Theory of Relativity, The Gold Diggers, The Hunchback of Notre Dame, The Pilgrim, The Ten Commandments, Warner Bros.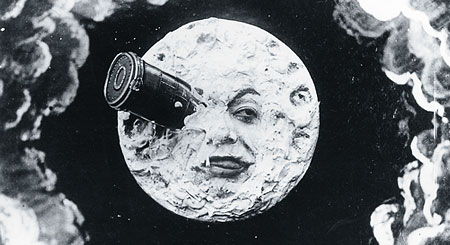 A few years ago, I realized that my knowledge of film history was very limited. My timeline of film began with Back to the Future, and I could tell you more about the films of Pauly Shore than those of Marlon Brando. So, with the acknowledgement that I was missing decades of great films, I decided to start way back at the beginning of film and work my way to the present, learning as much about film and watching as many movies as I could in the quest for cinematic enlightenment. Through this endeavor, I found some of the greatest films ever made, as well as learned an incredible amount about the history of film. I would like to share what I have learned so far in a chronological look at film I like to call "Flickchart Film School".
Tags: A Trip to the Moon, Alejandro Gonzalez Innaritu, Babel, Back To The Future, Broken Blossoms, Cecil B. Demille, Charles Chaplin, Crash, Douglas Fairbanks, Florence Lawrence, George Melies, Gertie the Dinosaur, Guy Maddin The Four Troublesome Heads, Intolerance, Kid Auto Races at Venice, Lumiere, Magnolia, Marlon Brando, Mary Pickford, Michel Gondry, Paul Haggis, Paul Thomas Anderson, Pauly Shore, Shoulder Arms, The Birth of a Nation, The Great Train Robbery, The Squaw Man, Tillie's Punctured Romance