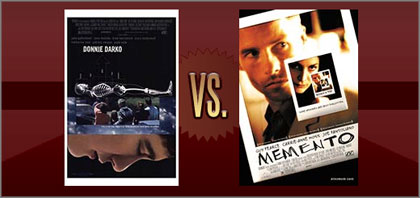 In This Corner…
Like the universe itself, film is a fragile medium that can produce monumental changes with just the slightest tweaks, twists, or turns. In life, a decision to stop off for a loaf of bread and a six-pack of beer on the way home from work can mean the difference between a lonely weekend and meeting the love of your life. Likewise in film, a change of genre can result in a vast improvement over a weaker effort or a new creation of wonder and excitement equivalent to its original source. Such is the case in this week's Reel Rumbles as two modern classics go head-to-head, each taking a previous film comedy and twisting the concepts into different genres for fresh, exciting, and provocative filmmaking. Taking its cue from the less than stellar Dana Carvey comedy Clean Slate (1994), Memento revitalizes the film noir genre with a mystery told in reverse, while a touch of teenage angst and ominous foreshadowing makes a classic like Harvey (1950) into a dark and supernatural tale of apocalyptic proportions. So question your identity, follow the clues, and leap through the time travel continuum, it's time for Donnie Darko vs. Memento.
In: Reel Rumbles
Tags: 1950, 1994, 1998, 2008, Beth Grant, Carrie-Anne Moss, Christina Applegate, Christopher Nolan, classics, Clean Slate, creepy, crime, Dana Carvey, dark, Donnie Darko, Drew Barrymore, film noir, Flickchart, Following, Guy Pearce, Harvey, Jake Gyllenhaal, Jena Malone, Joe Pantoliano, Maggie Gyllenhaal, Married with Children, Memento, memory, murder, murder mystery, mystery, Patrick Swayze, Polaroid, Quentin Tarantino, rabbit, revenge, Richard Kelly, Seth Rogen, sleepwalks, Smurfette, supernatural, tattoos, Vantage Point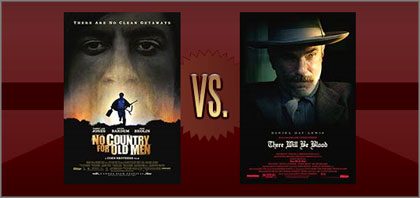 In This Corner…
Since the early twentieth century, greed has been a subject to fascinate filmmakers and movie audiences alike. It is a vice that can turn normal men into monsters. Like a plague, it spreads ever so easily to destroy the Host and the Innocent. The most notable starting point of greed on film is in Erich von Stroheim's silent work Greed (1924). Famous for its original ten-hour length, which was obliterated much to the director's chagrin by over seven hours worth of cuts, Greed explored in much detail how destructive the abstract can be. In this week's Reel Rumbles, the wages of greed are examined further by two modern classics, adaptations of the literary works of Upton Sinclair (Oil!) and Cormac McCarthy. Lie to friends, horde your wealth, and steal from family members – it's time for  No Country for Old Men vs. There Will Be Blood.
In: Reel Rumbles
Tags: 2008, adaptation, Barry Corbin, Best Adapted Screenplay, Best Director, Best Picture, Best Supporting Actor, Beth Grant, Blood Simple, Coen Brothers, Cormac McCarthy, Daniel Day-Lewis, ending, Erich von Stroheim, Fargo, Faustian, Greed, Javier Bardem, Josh Brolin, Kelly Macdonald, Margaret Bowman, Miller's Crossing, No Country For Old Men, novel, Oil!, Once Upon a Time in the West, originality, Oscar winner, Paul Dano, Paul Thomas Anderson, Reel Rumbles, Sergio Leone, Tess Harper, There Will Be Blood, thriller, Tommy Lee Jones, Upton Sinclair, violence, Woody Harrelson