How do this week's Blu-ray and DVD releases rank against the best movies of all-time?
Predators (DVD and Blu-ray | R | 2010)
How would you rank it amongst the best monster movies of all time?

Flickchart Ranking: #3724
Times Ranked: 5616
Win Percentage: 53%
How Many Top-20′s: 3 Users
Happy to see this has been well-received by the Flickchart community. The first two (yes, both) are classics and it's nice to see the series return to being bad-ass. Check out Flickchart user johnmason's review.
How would you rank it amongst the best thrillers of all time?

Flickchart Ranking: #11744
Times Ranked: 70
Win Percentage: 77%
How Many Top-20′s: 0 Users
If you are in any way a Dolph Lundgren fan, you should definitely give this a shot. It's pretty fantastic.
Agora (DVD | R | 2009)
How would you rank it amongst the best thrillers of all time?

Flickchart Ranking: #9557
Times Ranked: 306
Win Percentage: 56%
How Many Top-20′s: 0 Users
Director Alejandro Amenabar's tale of Christianity during the Roman Empire. Rachel Weisz stars.
And that's about it. Everything else is essentially just DTV that doesn't feature Dolph Lundgren and smaller, but in most cases interesting, movies. Here's a quick list:
In: New Releases
Tags: Agora, Apocalypse Now, As Good as Dead, assault girls, Dolph Lundgren, giallo, great balls of fire, Holy Rollers, Legion, mirrors 2, moulin rouge, My Son My Son What Have Ye Done, night of the demons, Ondine, Please Give, predators, Psycho, romeo + juliet, saw vi, shoot the hero, six wives of henry lefay, The Assassin Next Door, The Imaginarium of Doctor Parnassus, The Killing Machine., the last rites of ransom pride, The Rocky Horror Picture Show, the seven samurai, vampire girl vs frankenstein girl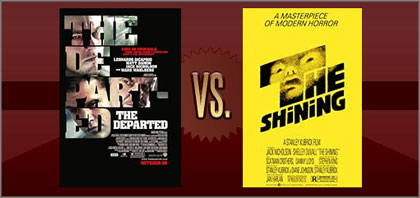 In This Corner…
Doesn't matter if you're shipping up to Boston or dropping by the Overlook Hotel for a cozy winter getaway, the films in this week's Reel Rumbles are sure to leave you blown away. For director Martin Scorsese, it was the film that finally earned him the respect of his peers. Uniting a stellar cast of hot new stars and old favorites, the auteur breathed his own style into the modern Asian classic Infernal Affairs (2002) with a tale of isolation and deception that struck chords with critics and delivered a shocking and graphic finale for audiences. But it has some stiff competition in the form of an unforgettable horror masterpiece from one of cinema's most influential directors, Stanley Kubrick. Sharing one star and a common theme on the dangers of isolation, Kubrick's adaptation of Stephen King's novel emblazoned horrifying imagery into popular culture and stands as perhaps his lead's finest hour. Believe your eyes. Watch your back. And beware of Jack Nicholson. It's time for The Departed vs. The Shining.
In: Reel Rumbles
Tags: 1976, 1980, 1990, 2002, 2007, Apocalypse Now, Best Picture, Boston, Danny Lloyd, Gangs of New York, GoodFellas, horror, hotel, Indiana Jones and the Kingdom of the Crystal Skull, Infernal Affairs, Jack Nicholson, King of Terror, Leonardo DiCaprio, Mark Wahlberg, Martin Scorsese, Martin Sheen, Matt Damon, Maximum Overdrive, Orphan, Raging Bull, Ray Winstone, Reel Rumbles, Scatman Crothers, Shelly Duvall, Stanley Kubrick, Stephen King, Taxi Driver, The Aviator, The Bourne Identity, The Departed, The Shining, Vera Farmiga