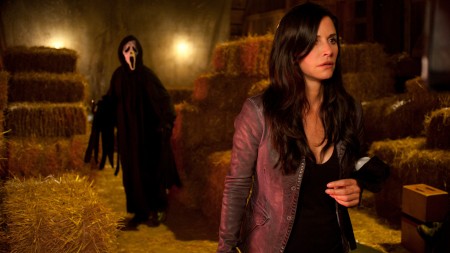 It's hard to believe that this year marks the sixteen year anniversary of the original Scream's release and that it has been eleven years since the final film in the trilogy, Scream 3 was released. Well now the film series that single-handedly revitalized the teen horror film genre and became one of the greatest film parodies of all time, returns with Scream 4. The three main protagonists of the film will be returning with David Arquette and Courteney Cox playing the couple Dewey Riley and Gale Weathers, respectively and Neve Campbell reprising her role as Sidney Prescott. But with the beginning of a supposed new trilogy, the Ghostface Killer is gonna need some new blood to attack. So to introduce yourself to this new cast of potential victims, here are some under-ranked films from the cast of Scream 4.
In: Under-Ranked
Tags: Adam Brody, Anna Paquin, Christopher Marquette, Couples Retreat, Courteney Cox, David Arquette, Dianna Agron, Elijah Wood, Fanboys, Forgetting Sarah Marshall, Jason Mewes, Josh Duhamel, Josh Peck, Katie Holmes, Kevin Smith, Kristen Bell, Malin Akerman, Mean Creek, Neve Campbell, Rory Culkin, Scream, Scream 3, Scream 4, Seth Rogen, St Elmo's Fire, Star Wars, Star Wars: Episode 1-The Phantom Menace, the romantics, William Shatner

The central theme to four of these five selections is that they're about people at a point in their lives where the only certainty is that they are not willing to remain as they are. Their objectives differ, as do their methods, but anyone who has ever stared at a crossroads should easily identify with these movies. Most of these selections — though not all — were streamed in the middle of the night, where the only ambient noise was the space heater and the occasional snoring from one of our cats. I can't, of course, attest to how I may have responded to any of these movies amidst the hustle and bustle of the daytime hours and I can't guarantee that if you wait until everyone else is asleep that they'll resonate with you, but I thought it pertinent to establish the context in which I came to view these films.
Tags: Anjelah Johnson, Anjelah Johnson: That's How We Do It, Anna Paquin, Billy Mitchell, Blue State, Breckin Meyer, Brittany Murphy, Christopher Dennis, Confessions of a Superhero, George W. Bush, Jennifer Gehrt, Joseph McQueen, Lost in Translation, Matthew Ogens, Maxwell Allen, Netflix, Seth Gordon, stand-up comedy, Steve Wiebe, Swingers, The Karate Kid, The King of Kong: A Fistful of Quarters, The Ramen Girl, Toshiyuki Nishida, Trekkies, Watch Instantly