Flickchart Ranking: #3835
Times Ranked: 2606
Win Percentage: 30%
How Many Top-20′s: 1 Users
It's right around the time that John Lithgow and Jesse Ventura equip themselves with phone book armor and huge metal rods to have a death-stick prison-fight to determine who the true "Aryan Warrior" is that I realized, sweet lord this movie is bringing the ruckus. It wasn't the first scene of awesome and it definitely wasn't the last but it perfectly encapsulates what makes this crazy little movie one of the most memorable action movies around.
In: Guilty Pleasures
Tags: 48 Hrs., Commando, Denzel Washington, Die Hard, Fred Dekker, Gary Busey, Highlander, Ice-T, Jesse Ventura, John Lithgow, Malcolm X, Monster Squad, Night of the Creeps, Philadelphia, Razorback, Ricochet, Russell Mulcahy, Rutger Hauer, Steven E. de Souza, Surviving the Game, Tango and Cash, The Mighty Quinn, The Most Dangerous Game, The Road Warrior, the running man, The Wicker Man, They Live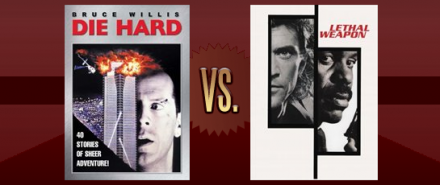 In This Corner…
It's beginning to look a lot like Christmas, which means many people will be turning their movie-watching attention to a lot of those feel-good holiday favorites. But for some, this is the most wonderful time of the year… for busting some heads. Nothing says peace on Earth like a good, old-fashioned, blood-pumping action flick, and this year we're entering the Reel Rumbles ring with a couple of the best. So get ready to deck the halls (and some thugs). It's time for Die Hard vs. Lethal Weapon.
In: Reel Rumbles
Tags: 1987, 1988, 48 Hrs., Alan Rickman, Alexander Godunov, Arnold Schwarzenegger, Bruce Willis, Christmas, cop out, Danny Glover, Die Hard, film, films, Gary Busey, John McTiernan, Lethal Weapon, matchup, Mel Gibson, Mitchell Ryan, movies, predator, Reel Rumbles, Reginald VelJohnson, Richard Donner, Rush Hour, Superman, Sylvester Stallone, Tango & Cash, The Goonies, The Omen, The Other Guys, Witness