I've been a fan of the Alien film series since my first encounter of catching glimpses of Jim Cameron's sequel. Between finger-shielded eyes, transfixed from across the room, I was likely much too young to be watching these scary, vicious creatures on VHS. In the years to come, I'd find their genesis in Ridley Scott's original, Alien, and then eagerly anticipating the opening nights of Alien³ and Alien Resurrection. Even the Alien vs. Predator comic-fan mash-up detours have claimed their running times from my life. To this day, I'm a dedicated fan. I'm writing this review wearing a Weyland-Yutani t-shirt. I've poured through hours of commentaries and behind the scenes features; from the Special Edition Laserdisc, to the DVD Quadrilogy, and the latest Blu-ray Anthology.
The common thread through it all has been the horrific H.R. Giger creature design and its environments – from my impressionable young age to adulthood – striking me as beautiful and intricate as they are the origins of nightmares. As dedicated as ever, Scott's love of visual storytelling in cinema bring these ghastly, yet gorgeous visions to our sight once again in Prometheus - but probably not in the way you'd expect.

By every possible scenario, Men in Black 3 should absolutely not work. The original Men in Black, released in 1997, was a box office blockbuster that caught everybody by surprise. On the other hand, its first sequel, released ten years ago, was a out-and-out disaster. Despite still being a box office success, many moviegoers felt cheated by what was essentially a rehash of the first movie with a weak villain (played by the usually capable Lara Flynn Boyle). Despite the issues with the second film, I was willing to give the new sequel a chance. After all, I already knew that if it was at least a step up from Men in Black II, then it would have already done its job. Well, surprise, surprise, the new sequel is not only a step above the previous movie, but it is also something else: A film almost as good as the original.
Tags: 1997, 2002, 2012, 3D, Alice Eve, Andy Warhol, Barry Sonnenfeld, Bill Hader, David Koepp, David Rasche, Emma Thompson, Etan Coen, Ghostbusters, Jeff Nathanson, Jemaine Clement, Josh Brolin, Lara Flynn Boyle, Men in Black, Men in Black 3, Men in Black II, Michael Stuhlbarg, Rip Torn, The Goonies, Tommy Lee Jones, Will Smith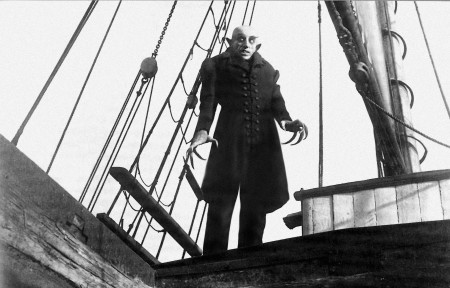 The evolution of film hardly slowed down in 1922. In Russia, filmmaker Lev Kuleshov starting to experiment with a new editing technique called "montage". The technique would be made popular by fellow Russian filmmakers such as Sergei Eisenstein in the upcoming years. Meanwhile in America, the first 3D feature film was shown to a paying audience. In Los Angeles, The Power of Love, which has since become a lost film, used red and green coloring and became the first film to use an early version of 3D glasses.
Tags: 1922, 3D, Bram Stoker, Count Orlok, Dr. Mabuse the Gambler, Dracula, Erich von Strohein, F.W. Murnau, Foolish Wives, Fritz Lang, German Expressionist, Harold Lloyd, John Malkovich, Lev Kuleshov, Little Rascals, Little Red Riding Hood, Max Schreck, MPAA, Nanook of the North, Nosferatu, Nosferatu the Vampyre, One Terrible Day, Rin Tin Tin, Robert J. Flaherty, Safety Last!, Sergei Eisenstein, Shadow of the Vampire, The Cabinet of Dr. Caligari, The Man From Hell's River, The Power of Love, The Testament of Dr. Mabuse, Walt Disney, Warner Bros., Werner Herzog, Will Hays, Willem Dafoe