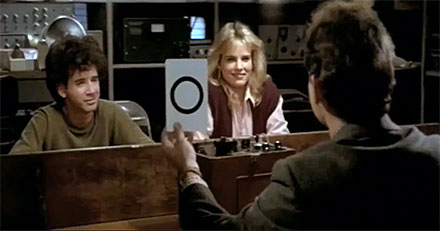 I love the purity of impulse involved in duels on Flickchart.
Though I certainly can't speak for everyone, I personally use the "first thought, best thought" principle when it comes to declaring a victor. You know, the method taught to us in school, to survive multiple choice tests you didn't study for. This principle states that the first answer you think is right, is probably right. Similarly, whichever dueling movie inspires the greatest instinctive rush of affection – on a primal level, divorced from the paralysis of over-thinking – is the correct choice to win the duel. If you suddenly realize this principle is working too well, and Flickchart autopilot has resulted in an errant click, there's always the Undo button to correct your mistakes.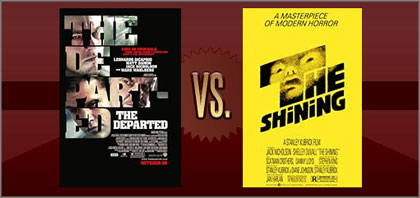 In This Corner…
Doesn't matter if you're shipping up to Boston or dropping by the Overlook Hotel for a cozy winter getaway, the films in this week's Reel Rumbles are sure to leave you blown away. For director Martin Scorsese, it was the film that finally earned him the respect of his peers. Uniting a stellar cast of hot new stars and old favorites, the auteur breathed his own style into the modern Asian classic Infernal Affairs (2002) with a tale of isolation and deception that struck chords with critics and delivered a shocking and graphic finale for audiences. But it has some stiff competition in the form of an unforgettable horror masterpiece from one of cinema's most influential directors, Stanley Kubrick. Sharing one star and a common theme on the dangers of isolation, Kubrick's adaptation of Stephen King's novel emblazoned horrifying imagery into popular culture and stands as perhaps his lead's finest hour. Believe your eyes. Watch your back. And beware of Jack Nicholson. It's time for The Departed vs. The Shining.
In: Reel Rumbles
Tags: 1976, 1980, 1990, 2002, 2007, Apocalypse Now, Best Picture, Boston, Danny Lloyd, Gangs of New York, GoodFellas, horror, hotel, Indiana Jones and the Kingdom of the Crystal Skull, Infernal Affairs, Jack Nicholson, King of Terror, Leonardo DiCaprio, Mark Wahlberg, Martin Scorsese, Martin Sheen, Matt Damon, Maximum Overdrive, Orphan, Raging Bull, Ray Winstone, Reel Rumbles, Scatman Crothers, Shelly Duvall, Stanley Kubrick, Stephen King, Taxi Driver, The Aviator, The Bourne Identity, The Departed, The Shining, Vera Farmiga