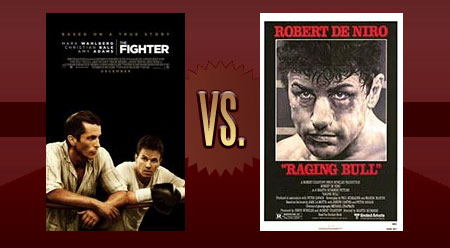 When I decided to do a Reel Rumbles about the top 2 sports dramas, I assumed number one would be Rocky. I was wrong, but I was also stunned to see only two sports films in the global Top 100 Movies Of All Time. Not only that, but there are some great sports movies which are severely underrated, Caddyshack at number #355 and Slap Shot at number #491, just to name two. If this article does nothing else, I hope it inspires people to either watch more highly regarded sports movies, or at least re-rank some of these films and give them a nice bump.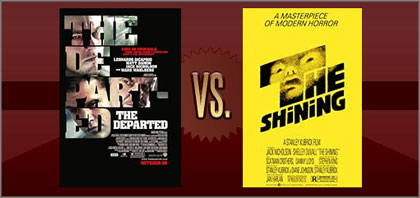 In This Corner…
Doesn't matter if you're shipping up to Boston or dropping by the Overlook Hotel for a cozy winter getaway, the films in this week's Reel Rumbles are sure to leave you blown away. For director Martin Scorsese, it was the film that finally earned him the respect of his peers. Uniting a stellar cast of hot new stars and old favorites, the auteur breathed his own style into the modern Asian classic Infernal Affairs (2002) with a tale of isolation and deception that struck chords with critics and delivered a shocking and graphic finale for audiences. But it has some stiff competition in the form of an unforgettable horror masterpiece from one of cinema's most influential directors, Stanley Kubrick. Sharing one star and a common theme on the dangers of isolation, Kubrick's adaptation of Stephen King's novel emblazoned horrifying imagery into popular culture and stands as perhaps his lead's finest hour. Believe your eyes. Watch your back. And beware of Jack Nicholson. It's time for The Departed vs. The Shining.
In: Reel Rumbles
Tags: 1976, 1980, 1990, 2002, 2007, Apocalypse Now, Best Picture, Boston, Danny Lloyd, Gangs of New York, GoodFellas, horror, hotel, Indiana Jones and the Kingdom of the Crystal Skull, Infernal Affairs, Jack Nicholson, King of Terror, Leonardo DiCaprio, Mark Wahlberg, Martin Scorsese, Martin Sheen, Matt Damon, Maximum Overdrive, Orphan, Raging Bull, Ray Winstone, Reel Rumbles, Scatman Crothers, Shelly Duvall, Stanley Kubrick, Stephen King, Taxi Driver, The Aviator, The Bourne Identity, The Departed, The Shining, Vera Farmiga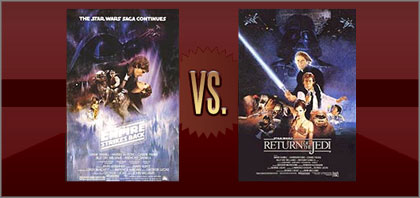 In This Corner…
For all its dazzling effects, epic mythology, iconic performances, and spectacular worlds and characters, the original Star Wars trilogy is essentially the tale of a boy and his father.
This week, that relationship takes center stage in the Reel Rumbles ring as the question that has been lurking about since the final curtain closed on George Lucas's original space opera is answered: which is the better film, The Empire Strikes Back or Return of the Jedi?
In: Reel Rumbles
Tags: 1977, 1980, Darth Vader, David Prowse, discussions, Ewoks, Eye of the Needle, Eyes of Laura Mars, Faye Dunaway, films, George Lucas, Irvin Kershner, Jagged Edge, James Earl Jones, Joe Eszterhas, Lawrence Kasdan, Leigh Brackett, matchup, movie battles, Reel Rumbles, Return Of The Jedi, Richard Marquand, Rio Bravo, Sebastian Shaw, space opera, Star Wars, The Big Sleep, The Empire Strikes Back, Tommy Lee Jones