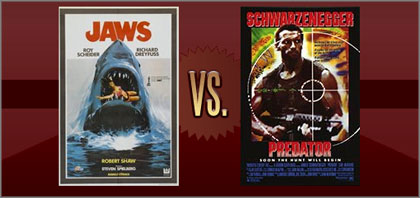 In This Corner…
Just when you thought it was safe to head back to the Flickchart Blog, another Reel Rumbles is here to determine once and for all what is scarier: a murderous great white shark on the loose in a small fishing village or a lone member of a mysterious alien race haunting the jungles of Central America? Separated by twelve years and undeniable advancements in special effects, this looks, on paper, to be a match for the ages. But is it really that close? Does testosterone-fueled action and a Die Hard pedigree trump master filmmaking and deep characterization? Read on and find out in Jaws vs. Predator.
In: Reel Rumbles
Tags: 1971, 1973, 1975, 1976, 1977, 1979, 1982, 1983, 1984, 1986, 1987, 1988, 2010, 52 Pick-Up, All That Jazz, Apollo Creed, Arnold Schwarzenegger, Blue Thunder, Carl Gottlieb, Carl Weathers, Commando, Die Hard, Elpidia Carrillo, Jaws, Jesse Ventura, Jim Thomas, John McTiernan, John Thomas, John Williams, Kevin Peter Hall, Lethal Weapon, Marathon Man, Moby Dick, monster, Nomads, Peter Benchley, Pierce Brosnan, predator, Reel Rumbles, Richard Chaves, Richard Dreyfuss, Robert Shaw, Rocky, Roy Scheider, Shane Black, Sorcerer, Steven Spielberg, Still of the Night, The French Connection, The Seven-Ups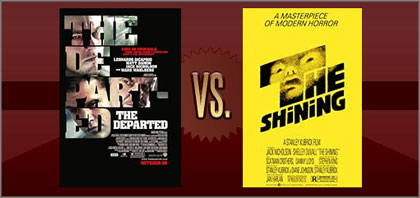 In This Corner…
Doesn't matter if you're shipping up to Boston or dropping by the Overlook Hotel for a cozy winter getaway, the films in this week's Reel Rumbles are sure to leave you blown away. For director Martin Scorsese, it was the film that finally earned him the respect of his peers. Uniting a stellar cast of hot new stars and old favorites, the auteur breathed his own style into the modern Asian classic Infernal Affairs (2002) with a tale of isolation and deception that struck chords with critics and delivered a shocking and graphic finale for audiences. But it has some stiff competition in the form of an unforgettable horror masterpiece from one of cinema's most influential directors, Stanley Kubrick. Sharing one star and a common theme on the dangers of isolation, Kubrick's adaptation of Stephen King's novel emblazoned horrifying imagery into popular culture and stands as perhaps his lead's finest hour. Believe your eyes. Watch your back. And beware of Jack Nicholson. It's time for The Departed vs. The Shining.
In: Reel Rumbles
Tags: 1976, 1980, 1990, 2002, 2007, Apocalypse Now, Best Picture, Boston, Danny Lloyd, Gangs of New York, GoodFellas, horror, hotel, Indiana Jones and the Kingdom of the Crystal Skull, Infernal Affairs, Jack Nicholson, King of Terror, Leonardo DiCaprio, Mark Wahlberg, Martin Scorsese, Martin Sheen, Matt Damon, Maximum Overdrive, Orphan, Raging Bull, Ray Winstone, Reel Rumbles, Scatman Crothers, Shelly Duvall, Stanley Kubrick, Stephen King, Taxi Driver, The Aviator, The Bourne Identity, The Departed, The Shining, Vera Farmiga