Soundtracks of Significance: Softcore Films of the 1970s
For those of you who read my Guilty Pleasures article on ABBA: The Movie, you may recall that my love affair with the group began when I saw the film Muriel's Wedding. That experience was unquestionably the single most important event in my Europop awakening. It was not, however, the first. The seed was planted years earlier by cable television's after hours programming. Like many summer nights of my youth, I was flipping through the stations searching for a gore movie or Green Acres rerun. Instead, I found the opening credits to the West German sex comedy She's 19 and Ready. It was during those credits that I would hear "You're the Greatest Lover" by the Dutch group Luv'. The chorus echoed in my head mercilessly from that moment on:
Hey, hello so you're the greatest lover
Hey, hello you're such a sexy thing
Come let's sing and let us dance all night
you make me feel, yeah, feel alright
From what I've read, Luv' is like the 70s equivalent of the Spice Girls. That is, they are a manufactured girl group with a sexy, but family-friendly, image. She's 19 and Ready aired during cable's adult-oriented time slot because young folks weren't supposed to be watching it. But, as far as I know, Luv' was not a group that you could find on MTV or on American radio. So, had I not heard their music in a West German softcore flick that wasn't meant for my young eyes… well, it's arguable that I may not have been as psychologically prepared to accept ABBA's greatness when I watched Muriel's Wedding. I don't necessarily believe that everything happens for a reason, but I needed to hear "You're the Greatest Lover" at that time in my life. She's 19 and Ready made that possible. Maybe watching the video for the song will help you better understand my position:
Quite some time after my initial exposure to the movie, I tracked it down on DVD and watched it again. Much to my surprise, She's 19 and Ready contains yet another Europop toe tapper that I missed the first time around. Later in the film, the German group Dschinghis Khan performs their eponymous song "Dschinghis Khan" in a disco. I think this clip is from some television program, but it's just as addictive as the movie version:
I've watched quite a few motion pictures of an erotic nature from the 70s since my forbidden cable days. Though it may be hard to believe, discovering hummable tunes has become just as fulfilling for me as seeing the women running around in all their glory. These movies often have quality soundtracks. According to some sources, the Ozploitation film Felicity also purportedly showed up on after hours cable back in the day. I must've missed it at the time, but I have watched it as an adult. In addition to being a pretty good movie of its kind, it introduced me to the wonderfully groovy song "Mama's Little Girl" by Linda George:
If I had to choose the most peppy, swinging theme music, I'd probably have to go with the British film Au Pair Girls. The movie follows the bawdy hijinks and bittersweet romantic adventures of four young women from abroad who come to work in England. The most lovable character, in my opinion, is the uninhibited Swede whose biggest priority is having access to a color TV.  This is the trailer:
One 70s softcore film composer who has caught my attention is the Italian-born Nico Fidenco, who began his career as a singer in the 60s (his first hit was "What a Sky"). I first encountered his music in the Black Emanuelle series of films.  Indonesian actress Laura Gemser stars in most of them.  In addition to developing a cult following for her reoccurring role, she  is credited as costume designer for Troll 2. 
Probably my favorite Fidenco song is "Celebrate Myself" from Emanuelle in America. This is the opening credits (nudity has been edited out):
YouTube has a sizable selection of Fidenco's music from the Black Emanuelle series if you'd care to explore further. Just listening to the soundtracks may be more agreeable for most people. The other movies I've mentioned so far are lighthearted and relatively inoffensive, but the Black Emanuelle pictures fall much more firmly in the exploitation genre.  I often think Fidenco's music is too upbeat to be in the films, like this song from Emanuelle in Bangkok. It reminds me of something from a children's program.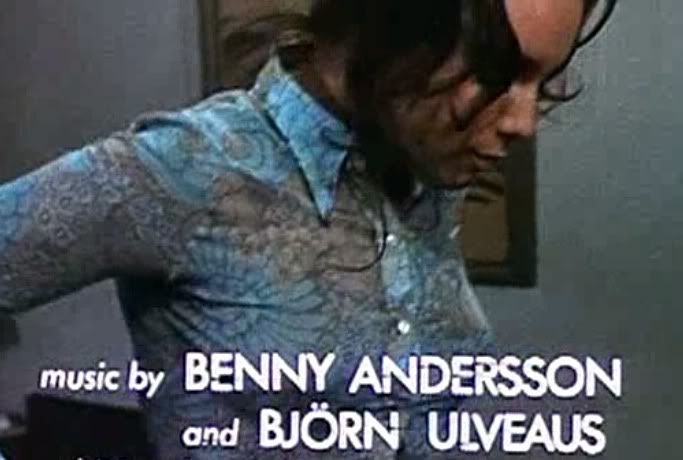 I'll wrap this up with my most surprising soundtrack discovery. Back in 1968, the erotic coming-of-age tale Inga popularized Eurosex films in the United States. For the sequel, The Seduction of Inga, the producer hired Björn Ulvaeus and Benny Andersson to compose the theme song. As you may know, Ulvaeus and Andersson are the songwriting masterminds behind ABBA. They came up with this song years before the group would attain worldwide success:
It puts a smile on my face knowing that even a supergroup like ABBA made their own modest contribution to softcore film history. Actually, it's probably just as likely that I could've stumbled upon The Seduction of Inga one summer night while flipping through channels as She's 19 and Ready… but Björn and Benny's little ditty isn't quite on the same level as "You're the Greatest Lover", so maybe things turned out for the best.