Green Lantern: A Flickcharter's Movie Review
16
Jun
2011
Being in the Green Lantern Corps. is a lot like being a U.S. Marshal. You are allocated a certain degree of autonomy and discretion. Hal Jordan (Ryan Reynolds), however, does not have any of these advantages. A local who happened upon an alien with a dying wish, he finds himself introduced to a world vastly different from his own. As he is the first human Green Lantern, he has to be mentored by a seven foot tall bird named Tomar-Re (Geoffrey Rush is on a roll isn't he?), he can't figure out his ring's oath, and his trainer, Sinestro (Mark Strong) is an ass.
Reynolds was a great choice for Hal. He exudes a natural charisma that invites you to share Hal's unbridled optimism and it doesn't feel false. Green Lantern is much closer to Superman than Batman or Spider-Man. Hal has his own sense of right and wrong and he never crosses it. In a way, he is the luckiest of superheroes; his powers come at no cost, he doesn't lose a family member, and he suffers no hardship for the use of his powers. Hal may be lucky, but he is still in way over his head.
Batman and Spider-Man never have to face otherworldy beings in combat. Hal is not so fortunate. Parallax is such a villain, and a powerful foe. Hal cannot face him alone, even with his newfound power. So he has a choice: fail Earth or enlist the aid of the Green Lantern Corp. If that isn't enough, he has to face off with genius Hector Hammond (Peter Sarsgaard) who has his mind manipulated by Parallax. Sarsgaard has a lot of fun with the role and works to make their showdown all the more entertaining.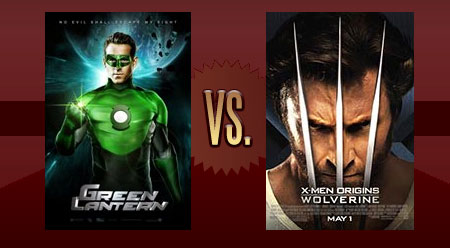 Reynolds is charismatic in both, but Green Lantern manages to succeed in making a worthy origin story of implementing Reynolds' talent. Deadpool's appearance is a sight for sore eyes during the film, it is however a short one. Taking into account very fake CGI claws and that this superhero flick features much more Ryan Reynolds, Green Lantern takes this round.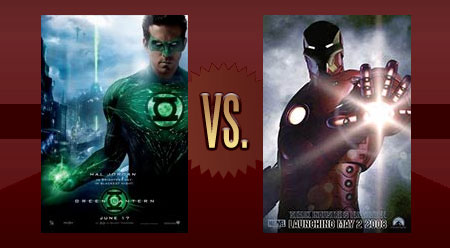 Both feature two cock-sure heroes. Both feature some element of a single man taking on a worldly force. What Green Lantern does not have is Robert Downey Jr.: a singularly talented individual. Iron Man was such a blast because it blended comic timing, action and drama with relative ease. Green Lantern suffers from trite dialogue during its meatier moments, and for that reason, Iron Man takes down Hal Jordan.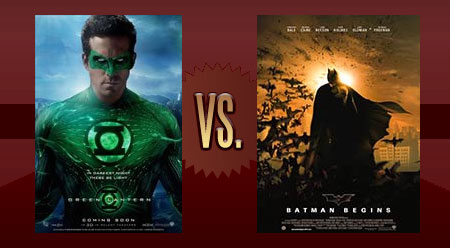 Batman and Green Lantern are two of D.C. Comics' more valuable properties. Batman Begins came after the generally demonized Batman & Robin, and with the assistance of Christian Bale and Christopher Nolan it became a smashing success going on to inspire one of the genre's best efforts yet in The Dark Knight. Green Lantern can't compete with the opening chapter of Batman's saga. Very few superhero films can.
Where Green Lantern Sits On My Flickchart
Green Lantern is quite fun, but between the flourishes of visual wonder, the script leaves one wanting more. The romance between Reynolds and Lively doesn't ring true and the cheesy dialogue can only be salvaged by the actors so many times before your eyes start to roll. Despite those two factors, the other-worldly elements of Green Lantern are quite spectacular and Reynolds certainly knows how to play a hero. The battle scenes are compelling and easily the most exciting element of the film.
Not the best the comic book genre has to offer this summer - X-Men:First Class and Thor were both superior – but still a lot of fun. Green Lantern, like all origin stories, suffers from a lack of suspense. Nothing bad can really happen to Hal as he is the face of a franchise sure to launch several sequels. Additionally, the character arcs are not as developed as Xavier and Magneto in X-Men: First Class are. Hal makes changes, but he never really develops during the course of the film.
As it stands, Green Lantern sits behind X-Men: First Class (246) and Thor (253) in the 2011 class of comic book films at 414 out of 819 on my Flickchart.