Welcome to the latest installment of Flickchart Road Trip, in which I'm starting in Los Angeles and "driving" across country, watching one movie from each state and posting about it once a week. The new movie I watch will go up against five movies from that state I've already seen, chosen from five distinct spots on my own Flickchart. Although I won't tell you where the new movie actually lands in my chart (I don't like to add new movies until I've had a month to think about them), I'll let you know how it fared among the five I've chosen. Thanks for riding shotgun!
Two things happened when I arrived in Arkansas: 1) I finally changed my direction from east to south, leaving Interstate 40 (which I'd been riding since New Mexico) to wend my way down to Louisiana on the comparatively tiny Highway 167, and 2) my clutch went out. Yep, I drive a stick. Yep, the moment I'm on a back road, I have car troubles. Murphy's Law.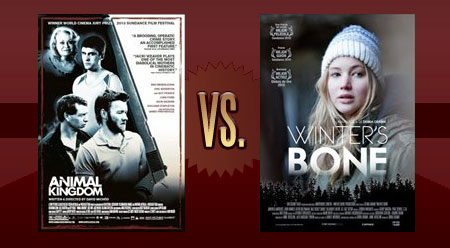 Winter's Bone and Animal Kingdom. Both feature the dark consequences of crime and trust issues, and both are the breakout efforts of new talented directors (David Michôd and Debra Granik). But the question is which one is better?