There hasn't been a movie that has been built up the same way The Avengers has. It all started in 2008, when Samuel L. Jackson – as Nick Fury – showed up in Iron Man after the credits had rolled to tell Robert Downey Jr. that he was not the only superhero in the world and S.H.I.E.L.D. had a little something called "The Avengers Initiative" in the works. Speculation ran wild on the internet with people wondering which members of the team would be involved and who the villain might be. As the years went on the details started to mete themselves out. Films like The Incredible Hulk, Captain America: The First Avenger, Thor, and Iron Man 2 gave us our heroes, villain, and a lead in to what the plot was going to be based around. Finally on May 4, 2012, four years and two days after Iron Man opened in theaters, The Avengers was released to an audience that had been dying to see it.
This is important to mention because it was almost impossible for a fan of superhero movies to not get excited and to not have high expectations. Interestingly, this makes the movie liable to be judged in an extreme way. If the movie was very good, people's excitement would propel it to be viewed as great. If the movie was a disappointment, people would rightfully be angry about it after placing more money and hours into it than most other franchises. As it happens, Marvel succeeded and The Avengers does in fact tiptoe the line between very good and great. Currently it appears most people think it's great (already sitting in the global Top 20), but I found it to be closer to the latter. A solid action blockbuster that exceeded the majority of the movies that came before it in the series. As more time goes by and the honeymoon period starts to fade, I think more people will tend to agree with me.  Read the rest of this entry »
In: Movie Reviews
Tags: 2012, Black Widow, Captain America, Captain America: The First Avenger, Chris Evans, Chris Hemsworth, Clark Gregg, Hawkeye, Hulk, Iron Man, Iron Man 2, Jeremy Renner, Joss Whedon, Loki, Mark Ruffalo, Marvel, Nick Fury, Robert Downey Jr., Samuel L. Jackson, Scarlett Johansson, The Avengers, The Incredible Hulk, Thor, Tim Hiddleston, Tom Hiddleston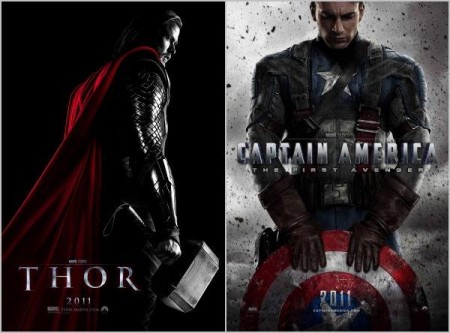 As Marvel Studios begins their big push to the 2012 release of The Avengers, their films are increasingly taking on more of a soap-opera-like continuity between them. This serialization might be a little aggravating, but so far, it's not keeping the films from being enjoyable in their own right (at least for the most part).
Still, comic book superhero films in general (and Marvel films in particular) are only becoming more prevalent nowadays. This year, we'll see the X-Men prequel, X-Men: First Class. And, only five years after the hit-and-miss (mostly miss) Spider-Man 3, the webslinger will be getting his very own shiny reboot in 2012.
But in The Avengers is Marvel's juggernaut, and before it brings together Iron Man and The Incredible Hulk, it has to introduce more members of its roster in their very own films. It can be a little exhausting trying to keep up with these Avengers, so if we really only want to check out one Marvel movie this summer, which should it be? With that question in mind, Flickchart's Reel Rumbles take on a slightly different form as we present: Pre-Rumbles: Thor vs. Captain America: The First Avenger.
In: Reel Rumbles
Tags: 2009, 2012, A Perfect Getaway, Ang Lee, Anthony Hopkins, Beowulf, Captain America, Captain America: The First Avenger, Chris Evans, Chris Hemsworth, Fantastic Four, Hamlet, Hayley Atwell, Henry V, Honey, Hugo Weaving, Hulk, I Shrunk the Kids, Ian McKellen, Iron Man, Joe Johnston, Kat Dennings, Kenneth Branagh, Marvel, Much Ado About Nothing, Natalie Portman, Patrick Stewart, Reel Rumbles, Spider-Man, Spider-Man 3, Stanley Tucci, Star Trek, Superman, The Avengers, The Incredible Hulk, The Lord of the Rings, The Rocketeer, The WOlfman, Thor, Tommy Lee Jones, Wild Wild West, X-Men, X-Men Origins: Wolverine, X-Men: First Class, X-Men: The Last Stand