There are some films on my Flickchart that rank higher than they might have, simply because they contain just one scene that held me captivated. Overall, I may not have cared for the movie, but one particular scene or sequence just caught my attention, and I had to admit: I wish the whole movie could have been like that.
Here are a few films that find themselves pulled from the dregs at the bottom of my Flickchart, buoyed in the middling middle on the strength of one or two effective scenes. One is the first R-rated film to win the Best Picture Oscar. One is considered a modern-day masterpiece. One is a mediocre action flick from a director best known for mediocre action flicks. They all have one thing in common: I didn't love them…but I loved something about them. (Caution to those who might not have seen the films discussed; there may be a few minor spoilers.)
In: User Showcase
Tags: 12 Rounds, 1971, 1975, 1977, 1979, 1993, 2004, 2008, Al Pacino, Best Picture, Brian De Palma, Carlito's Way, Cliffhanger, Cutthroat Island, Daniel Day-Lewis, Deep Blue Sea, Fernando Rey, film, films, Flickchart, Gene Hackman, GoodFellas, Inglourious Basterds, Jaws, John Lithgow, Kill Bill Vol. 1, Kill Bill Vol. 2, movies, Paul Thomas Anderson, Peter Jackson, Quentin Tarantino, Renny Harlin, Samuel L. Jackson, Star Wars, Sylvester Stallone, The Departed, The French Connection, The Godfather, The Long Kiss Goodnight, The Lord of the Rings, There Will Be Blood, Uma Thurman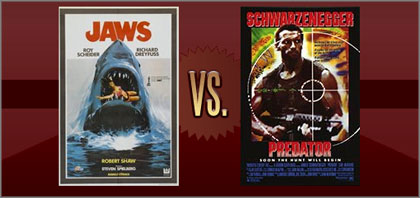 In This Corner…
Just when you thought it was safe to head back to the Flickchart Blog, another Reel Rumbles is here to determine once and for all what is scarier: a murderous great white shark on the loose in a small fishing village or a lone member of a mysterious alien race haunting the jungles of Central America? Separated by twelve years and undeniable advancements in special effects, this looks, on paper, to be a match for the ages. But is it really that close? Does testosterone-fueled action and a Die Hard pedigree trump master filmmaking and deep characterization? Read on and find out in Jaws vs. Predator.
In: Reel Rumbles
Tags: 1971, 1973, 1975, 1976, 1977, 1979, 1982, 1983, 1984, 1986, 1987, 1988, 2010, 52 Pick-Up, All That Jazz, Apollo Creed, Arnold Schwarzenegger, Blue Thunder, Carl Gottlieb, Carl Weathers, Commando, Die Hard, Elpidia Carrillo, Jaws, Jesse Ventura, Jim Thomas, John McTiernan, John Thomas, John Williams, Kevin Peter Hall, Lethal Weapon, Marathon Man, Moby Dick, monster, Nomads, Peter Benchley, Pierce Brosnan, predator, Reel Rumbles, Richard Chaves, Richard Dreyfuss, Robert Shaw, Rocky, Roy Scheider, Shane Black, Sorcerer, Steven Spielberg, Still of the Night, The French Connection, The Seven-Ups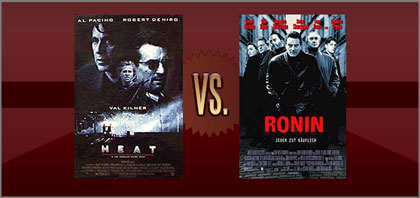 In This Corner…
His career as a director spanned seven decades, starting in the Forties with a small job on an early religious program and ending in 2000 with the action-mystery Reindeer Games. With such meager and lifeless bookends, one might question the abilities of director John Frankenheimer, who passed away shortly after his final film at the age of 93. But as poet laureate for Generation Z Miley Cyrus so eloquently sings, "It's the climb," and Frankenheimer's climb was one populated with a tense body of expertly crafted films that brought action and suspense to breathless new heights. His last great work paired him with a tight script and three brilliant actors for some of the most dizzying and fun car chases this side of The French Connection. But in this week's Reel Rumbles, Ronin has some fierce competition out of Michael Mann, another talented director, with a film that many consider to be his finest hour. A loose remake of his previous made-for-TV effort L.A. Takedown (1989), Heat won the praise of critics and audiences alike, and built a bridge between an overlooked cadre of masterpieces and a prominent career for the director that continues today. Study the blueprints, sync your watches, and get ready for the big score. It's time for Heat vs. Ronin.
In: Reel Rumbles
Tags: 1966, 1975, 1977, 1981, 1986, 1989, 1992, 1999, 2000, 2005, 2006, 40's, 52 Pick-Up, action, agent, Al Pacino, Ashley Judd, best of, Black Sunday, car chases, CIA, cops, crime, David Mamet, Dead Bang, European, Generation Z, Grand Prix, guns, Heat, Hollywood, J.D. Zeik, Jean-Claude Lagniez, John Frankenheimer, Jon Voight, Jonathan Pryce, Katarina Witt, King Kong, Last of the Mohicans, long runtime, Manhunter, Michael Mann, Miley Cyrus, Natalie Portman, Patrick Ronchin, Reel Rumbles, Reindeer Games, Richard Weisz, Robert De Niro, Ronin, Sean Bean, Stellan Skarsgard, stunt drivers, stunts, Ted Levine, The French Connection, The French Connection II, The Good Shepherd, The Insider, Thief, thriller, Tom Noonan, Tom Sizemore, Val Kilmer, Wes Studi