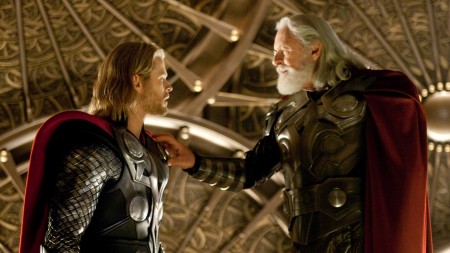 For the past five years, Marvel has unofficially kicked off the summer movie season with their fantastic lineup of superheroes. With big names like Wolverine, Spider-Man and Iron Man at their disposal, they have dominated the last half-decade of setting the bar high for the beginning of the summer. This weekend, they will attempt to do the same with a new film franchise based on Thor, about the strong and cocky god of thunder who gets kicked out of Asgard and forced to live on Earth. But before you start off the summer with this big-budget spectacle, check out some of these under-ranked films from the stars of Thor.
In: Under-Ranked
Tags: A Perfect Getaway, annie hall, Anthony Hopkins, Antonio Banderas, Ashton Kutcher, Black Swan, Chris Evans, Chris Hemsworth, Danny McBride, Frieda Pinto, Gemma Jones, Hotel Chevalier, Iron Man, J.J. Abrams, James Franco, Jason Schwartzman, Josh Brolin, Kiele Sanchez, Manhattan, Marvel, Milla Jovovich, Naomi Watts, Natalie Portman, No Strings Attached, Robert Downey Jr., Samuel L. Jackson, Spider-Man, Star Trek, Steve Zahn, The Avengers, The Darjeeling Limited, Thor, Timothy Olymphant, Wes Anderson, Wolverine, Woody Allen, You Will a Tall Dark Stranger, Your Highness
Harrison Ford, as Indiana Jones, is an archaeologist who goes on a search for the mystical Ark of the Covenant, while outwitting Nazis who compete to obtain the Ark for its fabled supernatural power. Raiders of the Lost Ark is a movie that you need to see before you die.
Tags: Breck Eisner, Christopher Reeve, Flickchart, George Lucas, Harrison Ford, Indiana Jones and the Kingdom of the Crystal Skull, John Williams, Karen Allen, Matthew McConaughey, Paul Freeman, Penélope Cruz, Raiders of the Lost Ark, Sahara, Star Wars, Steve Zahn, Steven Spielberg, Superman II, Terry Gilliam, The Road Warrior, Time Bandits

In This Corner…
Machete, the Robert Rodriguez action massacre, was released into theatres recently.  While it delivers plenty of sleaze and carnage, the movie also takes time to comment on the plight of illegal Mexican immigrants in the United States.  Even the "Illegal" trailer from back in May took a stand on the issue.  With that in mind, I thought this edition of Reel Rumbles could feature two movies about gringos who aren't too welcome south of the border.  In Bandidas, Mexican heroines Salma Hayek and Penélope Cruz take on a ruthless American interloper who is aggresively swindling people out of their land.  Turistas involves naive white people vacationing in Brazil who become unwilling organ donors.  Maybe the basic message of both Bandidas and Turistas is that other countries are not gringo playgrounds.  You can't just come around and act like you own the place, or there will be consequences.  (Or, the message could also be that it never hurts to cast attractive actors and dress them up in sexy attire whenever possible.)