I previously raised the issue of how we become emotionally connected to specific movies in "Yours, Mine and Ours: Our Emotional Ties to Films." Now, I want to explore the unfortunate side of forming those attachments. What happens to our relationships with those films when our relationships change?
For instance, I am getting divorced. Before I met my wife, I had no interest in horror movies at all. That was her favorite genre, however. For the first few years we were together, I just sort of indulged her each October as she waited for the sun to go down each night to properly set the mood for some of her favorites. In my world, October was meant for the baseball playoffs. Eventually, though, I began to explore the horror genre in earnest and found myself less devoted to the divisional series games early in the month. I discovered along the way that I love the old Universal Monsters movies. My wife wasn't particularly big on those, though, so those are "mine."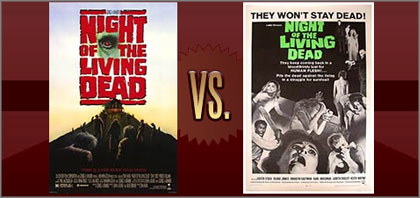 In This Corner…
I know that the general point of "Reel Rumbles" is to pit an apple against an orange, but I hope you'll indulge me as I put the spotlight on an apple and another apple grown from its own seed – the original 1968 Night of the Living Dead by George A. Romero vs. the 1990 Night of the Living Dead remake by Tom Savini. I'm personally abject to writing about content and including spoilers, but it's somewhat unavoidable here so if you've not seen both films you should stop reading and watch them now. Go ahead; I'll wait.