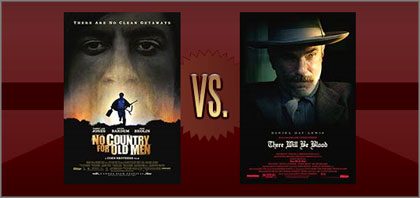 In This Corner…
Since the early twentieth century, greed has been a subject to fascinate filmmakers and movie audiences alike. It is a vice that can turn normal men into monsters. Like a plague, it spreads ever so easily to destroy the Host and the Innocent. The most notable starting point of greed on film is in Erich von Stroheim's silent work Greed (1924). Famous for its original ten-hour length, which was obliterated much to the director's chagrin by over seven hours worth of cuts, Greed explored in much detail how destructive the abstract can be. In this week's Reel Rumbles, the wages of greed are examined further by two modern classics, adaptations of the literary works of Upton Sinclair (Oil!) and Cormac McCarthy. Lie to friends, horde your wealth, and steal from family members – it's time for  No Country for Old Men vs. There Will Be Blood.
In: Reel Rumbles
Tags: 2008, adaptation, Barry Corbin, Best Adapted Screenplay, Best Director, Best Picture, Best Supporting Actor, Beth Grant, Blood Simple, Coen Brothers, Cormac McCarthy, Daniel Day-Lewis, ending, Erich von Stroheim, Fargo, Faustian, Greed, Javier Bardem, Josh Brolin, Kelly Macdonald, Margaret Bowman, Miller's Crossing, No Country For Old Men, novel, Oil!, Once Upon a Time in the West, originality, Oscar winner, Paul Dano, Paul Thomas Anderson, Reel Rumbles, Sergio Leone, Tess Harper, There Will Be Blood, thriller, Tommy Lee Jones, Upton Sinclair, violence, Woody Harrelson

In This Corner
What if someone you never met, someone you never saw, someone you never knew, was the only someone for you? That's the question asked by Nora Ephron's 1993 hit Sleepless in Seattle, which climbs into the Reel Rumbles ring this week to do battle with 2004's The Notebook, a film that claims that behind every great love is a great story. Are these films promising chick flick classics, or just heavy-handed weepy tear-jerkers going for cheap shots over quality storytelling? Find out as the bell rings for The Notebook vs. Sleepless in Seattle.
In: Reel Rumbles
Tags: 1993, 2004, adaptation, Alzheimer's, Bill Pullman, Carey Lowell, Celine Dion, chick flicks, Christmas Eve, Clive Griffin, debate, discussions, emotional response, Gena Rowlands, Harry Connick Jr., James Garner, James Marsden, Jimmy Durante, Louis Armstrong, love story, matchup, Meg Ryan, Nicholas Sparks, Nick Cassavetes, Nora Ephron, novel, Rachel McAdams, relationships, romance, Rosie O'Donnell, Ross Malinger, Ryan Gosling, Sleepless in Seattle, The Notebook, Tim McGraw, Tom Hanks, widower