So much for the rumors that he might direct the 24th James Bond movie.
Christopher Nolan, the hit-making director behind Memento, Inception and the Dark Knight trilogy (all the top-ranked films of their respective years on Flickchart), has set his sights on his next project. Nolan is in talks to direct a sci-fi project entitled Interstellar, from a script written by his brother and past collaborator, Jonathan Nolan. The project is currently set up at Paramount Pictures, but will be a co-production between Paramount and Warner Bros., where Nolan's production company, Syncopy, is based.
The script for Interstellar is based on theories by Kip Thorne, a theoretical physicist, gravitational physicist and astrophysicist at Caltech. The story apparently involves parallel dimensions, time travel and characters traveling through a wormhole; in other words, it sounds like a complex, multi-layered tale that might be just right up Nolan's alley.
Steven Spielberg was originally attached to direct Interstellar, but set about creating a different sci-fi project, Robopocalypse, instead. However, Robopocalypse has recently been indefinitely delayed, so it is unclear whether Spielberg might remain involved with Interstellar.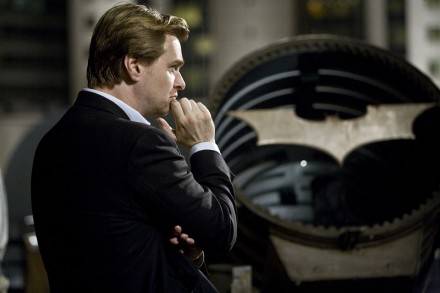 It doesn't get more dominating than having directed the highest-ranked film on Flickchart's list of The Best Movies of All Time. But the man behind The Dark Knight is not only responsible for the highest-grossing movie of 2008 (and a member of that elite billion-dollar club). Every one of the seven feature films he has directed has been a hit with critics, and several have been big hits at the box office. They're also hits on Flickchart. In this entry of Directors Who Dominate, we shine the spotlight on the dark figure of Christopher Nolan.
Your mind is the scene of the crime.
So reads the tagline for Inception, the new film from writer/director Christopher Nolan that just dares you to try and summarize it in a few sentences. I'm not sure it's possible. Here's a shot at something that barely scratches the surface: Star Leonardo DiCaprio plays Cobb, a man who specializes in entering people's dreams and stealing their ideas. When he is hired to do the opposite–place a new idea in a man's mind–he and his team get far more than they bargained for.
Such a simplistic description of such a complex movie. I am in awe of Nolan's film, and it's going to rank extremely high on my Flickchart; so high, that I'm almost shocked.