In This Corner…
Sooner or later, everybody runs. Even if they're one of the biggest movie stars on the face of the planet. For this edition of Reel Rumbles, grab your popcorn and prepare for the run of your life as we go on the lam with Harrison Ford and Tom Cruise in an attempt to prove their innocence (and cinematic superiority) with The Fugitive vs. Minority Report.
These two thrillers both feature a cinema superstar accused of murder and on the run from the law. One is a tense cat-and-mouse game between a surgeon out to find his wife's real killer and the dogged U.S. Marshal on his tail; the other is set in the not-so-distant future, and features a law enforcement officer trying to clear himself of a murder that hasn't even been committed yet. One is an almost unexpected masterwork from a director whose other best-known credits are the Steven Seagal vehicle Under Siege and a Coast Guard movie starring Ashton Kutcher. The other is a superb thriller-with-a-sci-fi-twist from one of cinema's greatest living legends that, despite how great it is, somehow still doesn't seem to quite match some of the director's previous cinematic efforts.
So which is better? Run–don't walk–into the Reel Rumbles ring and find out…
In: Reel Rumbles
Tags: 1993, 2002, 2008, Arnold Schwarzenegger, Ashton Kutcher, Blade Runner, Born on the Fourth of July, Chuck Norris, Code of Silence, Colin Farrell, Collateral Damage, Fargo, film, films, Flickchart, Han Solo, Harrison Ford, Indiana Jones, Jaws, Jerry Maguire, Joe Pantoliano, jurassic park, Kathryn Morris, Magnolia, Max Von Sydow, movies, Munich, Peter Stormare, Philip K. Dick, Reel Rumbles, Samantha Morton, Saving Private Ryan, Schindler's List, Sela Ward, Steven Seagal, Steven Spielberg, the fugitive, The Mosquito Coast, Tim Blake Nelson, Tom Cruise, Tommy Lee Jones, Total Recall, Tropic Thunder, Under Siege, Witness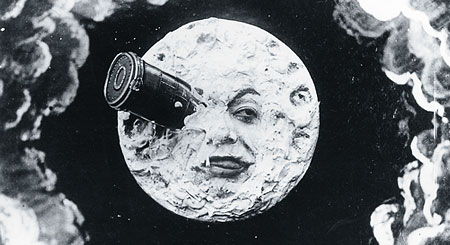 A few years ago, I realized that my knowledge of film history was very limited. My timeline of film began with Back to the Future, and I could tell you more about the films of Pauly Shore than those of Marlon Brando. So, with the acknowledgement that I was missing decades of great films, I decided to start way back at the beginning of film and work my way to the present, learning as much about film and watching as many movies as I could in the quest for cinematic enlightenment. Through this endeavor, I found some of the greatest films ever made, as well as learned an incredible amount about the history of film. I would like to share what I have learned so far in a chronological look at film I like to call "Flickchart Film School".
Tags: A Trip to the Moon, Alejandro Gonzalez Innaritu, Babel, Back To The Future, Broken Blossoms, Cecil B. Demille, Charles Chaplin, Crash, Douglas Fairbanks, Florence Lawrence, George Melies, Gertie the Dinosaur, Guy Maddin The Four Troublesome Heads, Intolerance, Kid Auto Races at Venice, Lumiere, Magnolia, Marlon Brando, Mary Pickford, Michel Gondry, Paul Haggis, Paul Thomas Anderson, Pauly Shore, Shoulder Arms, The Birth of a Nation, The Great Train Robbery, The Squaw Man, Tillie's Punctured Romance