A Good Day to Die Hard, the fifth film in the venerable action franchise that has seen Bruce Willis portray beleaguered Detective John McClane across four decades of film history, will reportedly be rated R.
This should satisfy fans who felt frustrated at the more teen-friendly PG-13 rating of Live Free or Die Hard, the film's fourth franchise. Movies can get away with a lot more violence in a PG-13 film than they used to, but profanity – as much a staple of Die Hard as guns and McClane's horrendous bad luck – is still taboo. A Good Day to Die Hard's R rating will mean that Willis should be able to utter McClane's famous "Yippee-kay-yay" catchphrase in its entirety, and curse like a sailor at all the bad guys giving him another bad day.
The new film sees McClane pursue his seemingly wayward son, Jack (Jai Courtney), to Russia. But when it turns out his son is an undercover CIA operative working to foil a nuclear arms deal, father and son must team up to stop the bad guys. This fifth installment is directed by John Moore (Behind Enemy Lines).
In perfect counter-programming, A Good Day to Die Hard is set to be released on Valentine's Day, February 14.
via EW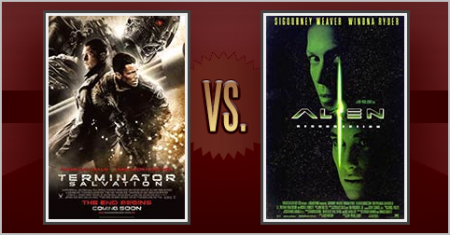 In This Corner…
In recent years, there's been a number of once-dormant franchises – particularly franchises that began in the 1980s – being resurrected with a third sequel. Not every franchise warrants a fourth movie, but we've recently seen Rambo, Live Free or Die Hard, Indiana Jones and the Kingdom of the Crystal Skull…to varying degrees of success. (Surely, it will not be too much longer before some genius decides to make Back to the Future Part IV.)
There are two science fiction franchises, however, that share a very similar pattern of quality in their four movies. The first two films in both series are widely considered classics (and, in fact, all four films rank in the Top 100 of Flickchart's list of the Best Films of All Time). Both had their reputations tarnished by a lackluster third film (yet even those movies have their defenders). And both had pretty definitive trilogy conclusions blown open by the arrival of a fourth film.
These "fourquels" might be considered unwarranted, even unwanted. One promises "resurrection", the other "salvation", but the results may be somewhat less than heavenly. Yet, some people may find them better than the disappointing third movies. And when you are presented with them on Flickchart – and you admit that you've seen them – the question is, "Which is better?" Care to find out? Step in to the Reel Rumbles ring as we pit Terminator Salvation vs. Alien Resurrection.  Read the rest of this entry »
In: Reel Rumbles
Tags: Alien, Alien 3, Alien Resurrection, Alien vs. Predator, Aliens, Amelie, Anton Yelchin, Arnold Schwarzenegger, Brad Dourif, Charlie's Angels, Christian Bale, Delicatessen, Ian Holm, Indiana Jones and the Kingdom of the Crystal Skull, James Cameron, Jean-Pierre Jeunet, John Brancato, Joss Whedon, Lance Henriksen, Leland Orser, Live Free or Die Hard, McG, Michael Ferris, Rambo, Ron Perlman, Sam Worthington, Sigourney Weaver, terminator 2: judgment day, Terminator Salvation, The Dark Knight, The Terminator, We Are Marshall, Winona Ryder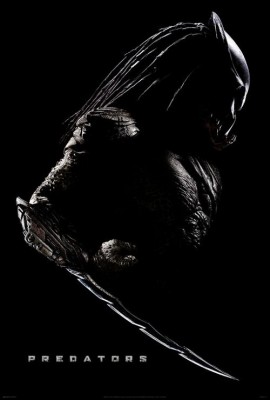 Some of the world's deadliest people – soldiers, mercenaries, killers, rapists – find themselves dropped into the middle of a hostile jungle. Soon, they realize they are being hunted… and that they are no longer on our world. So begins Predators; a sequel to the original, singular-titled, Arnold Schwarzenegger-starring sci-fi action hit from 1987. And as it turns out, it's become the only sequel to that movie that's truly worth the effort.
Starring: Adrien Brody (The Pianist; King Kong), Topher Grace (Spider-Man 3; TV's "That 70′s Show"), Alice Braga (City of God; I Am Legend), Walton Goggins (TV's "The Shield"), Oleg Taktarov (Righteous Kill; Bad Boys II), Laurence Fishburne (The Matrix; TV's "CSI") and Danny Trejo (Planet Terror; Heat)
Directed by: Nimród Antal (Armored; Vacancy)
So, how does Predators measure up? I'll use the Flickchart ranking method to see how…