A common thread that runs through all of Bret Easton Ellis' books is the exploration of hollow persons. People who are generally well-off financially yet dead on the inside, so numb to the world around them that even acts of horrific violence and depravity can't faze them more than momentarily. Ellis has populated his stories with these characters, often set in the 1980s to satirize the excessiveness of the time period. While reading all the books back-to-back is probably not recommended, the author manages to find enough variety and different themes to explore to make them all have some value. If he seems one-note, one does not look closely enough.  Read the rest of this entry »
Tags: 1980's, 1985, 1987, 2000, 2002, 2008, American Psycho, Andrew McCarthy, Billy Bob Thornton, Bret Easton Ellis, Christian Bale, Clifton Collins Jr., Glamorama, Gregor Jordan, Guinevere Turner, Harley Peyton, James Van Der Beek, Kim Basinger, Kip Pardue, Less Than Zero, Marek Kanievska, Mary Harron, Mickey Rourke, Nicholas Jarecki, Robert Downey Jr., Roger Avary, Shannyn Sossamon, The Informers, The Rules of Attraction, Winona Ryder
Ah, the 1980s.  My generation has taken nostalgia from a wistful remembrance and turned it into a marketing campaign.  If you mention this decade in the context of film, you'll likely find yourself in conversation about the numerous blockbusters and the franchises built from them, but there were also a lot of entertaining comedies that have largely fallen by the wayside as basic cable programmers have abandoned older comedies to the history books.  Here are some of the gems waiting for you on Netflix.
Tags: 1980's, Amazon Instant Video, big, Blake Edwards, Blind Date, Bruce Dern, Bruce Willis, Carrie Fisher, Corey Feldman, Henry Winkler, John Larroquette, Kim Basinger, Kirstie Alley, Mark Harmon, Michael Keaton, Netflix, Night Shift, Phil Hartman, Rick Docummun, Risky Business, Ron Howard, Shelley Long, Summer School, The 'Burbs, The Texas Chainsaw Massacre, Tom Hanks, William Daniels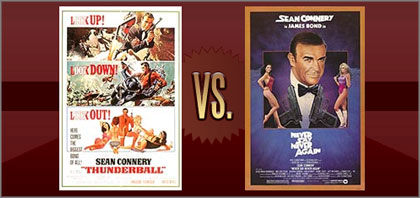 You can go crazy sorting through the convoluted legal history behind this match-up, but suffice it to say that Never Say Never Again is a remake of Thunderball and that it was not made by the same production company as nearly every other James Bond movie (the other exception being 1967's Casino Royale). It was released in 1983, just four months after Octopussy, the thirteenth "official" Bond movie. The question on everyone's mind in 1983 was, "How does the remake compare?" It's time for an answer. It's time for Thunderball vs. Never Say Never Again.