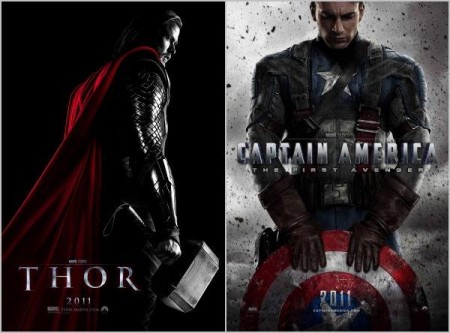 As Marvel Studios begins their big push to the 2012 release of The Avengers, their films are increasingly taking on more of a soap-opera-like continuity between them. This serialization might be a little aggravating, but so far, it's not keeping the films from being enjoyable in their own right (at least for the most part).
Still, comic book superhero films in general (and Marvel films in particular) are only becoming more prevalent nowadays. This year, we'll see the X-Men prequel, X-Men: First Class. And, only five years after the hit-and-miss (mostly miss) Spider-Man 3, the webslinger will be getting his very own shiny reboot in 2012.
But in The Avengers is Marvel's juggernaut, and before it brings together Iron Man and The Incredible Hulk, it has to introduce more members of its roster in their very own films. It can be a little exhausting trying to keep up with these Avengers, so if we really only want to check out one Marvel movie this summer, which should it be? With that question in mind, Flickchart's Reel Rumbles take on a slightly different form as we present: Pre-Rumbles: Thor vs. Captain America: The First Avenger.