Arnold Schwarzenegger has returned in The Last Stand, a sort-of amped up, extra-violent version of Unstoppable. It's not perfect, and starts off kind of slow, but once the film gets going it becomes the mindless fun you'd expect.
In: Movie Reviews
Tags: 2013, action, Arnold Schwarzenegger, Art Malik, Bill Paxton, comedy, Eduardo Noriega, Forest Whitaker, Genesis Rodriguez, Harry Dean Stanton, Jaime Alexander, James Cameron, Javier Bardem, Jee-woon Kim, Jingle All the Way, John McTiernan, John Wayne, Johnny Knoxville, Luis Guzman, Peter Stormare, predator, Robert Patrick, Rodrigo Santoro, Skyfall, Terminator 2, The Good The Bad The Weird, The Last Stand, the running man, true lies, Unstoppable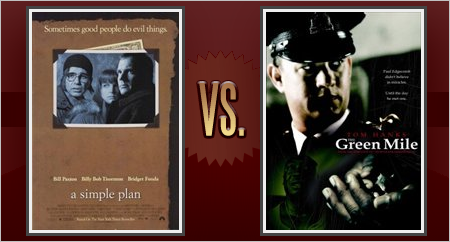 In This Corner…
Sometimes good people do evil things.
Sometimes, it arises from a false sense of security, the mistaken idea of a victimless crime. Sometimes, it's just part of the job. In this episode of Reel Rumbles, two films face off that feature decent characters performing heinous acts. The circumstances are different, but the results are the same: The lives of Hank Mitchell and Paul Edgecombe are forever altered by the very bad things they are forced – or choose – to do.
Join us for a walk on the darker side of humanity with A Simple Plan vs. The Green Mile.  Read the rest of this entry »
In This Corner…
The year is 1979, and film audiences are about to discover that in space, no one can hear you scream. Seven years later, the terror returns, and this time – it's war.
The two films – Alien and Aliens – were unlike anything audiences had seen before, or were likely to again. Each was groundbreaking to its specific genres – the first to horror, and second to action. While most have been able to agree the two are terrific, the real conflict comes when asked to pick the superior film.
Now in this, the inaugural edition of Flickchart's newest blog feature, Reel Rumbles, it's time these titans stepped into the ring and finally decided, once and for all, which is the better film.
In: Reel Rumbles
Tags: 1979, action, Albert Finney, Alien, Aliens, Bill Paxton, Carrie Henn, Dan O'Bannon, H.R. Giger, Harry Dean Stanton, Harvey Keitel, horror, Ian Holm, James Cameron, Jenette Goldstein, John Hurt, Keith Carradine, Lance Henriksen, Michael Biehn, Paul Reiser, Reel Rumbles, Ridley Scott, Sigourney Weaver, The Duellists, Tom Skerritt, Yaphet Kotto