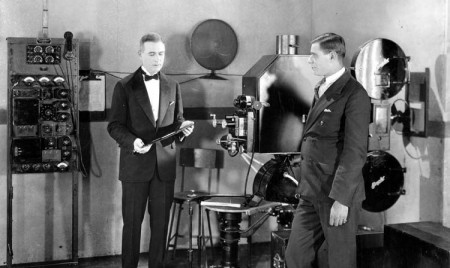 In 1925, the dawning of a new age in film that is right around the corner can already be seen. One of the largest steps is not only seeing film, but also hearing it. A big step towards this process was made when Western Electric and Warner Bros. decide to work together in order to make a system to make motion pictures with sound. Read the rest of this entry »
Tags: 1925, 1926, Ben-Hur: A Tale of Christ, Charles Chaplin, F.W. Murnau, Faust: A German Folk Legend, Georgia Hale, Gone With the Wind, Harold Lloyd, King Kong, Lita Grey, Lon Chaney, Mack Swain, The Battleship Potemkin, The Big Parade, The Freshman, The Gold Rush, The Lost World, The Phantom of the Opera, Tom Murray, Warner Bros., Western Electric
In 1923, one of Hollywood's most famous landmarks was created. The HOLLYWOOD sign, which originally said HOLLYWOODLAND, was built for only $21,000 over the Hollywood Hills. The famous sign was originally created to help raise home sales in Beachwood Canyon.
Tags: A Woman of Paris, Buster Keaton, Cecil B. Demille, Charlie Chaplin, Charlton Heston, Dave and Max Fleischer, Fred C. Newmeyer, Harold Lloyd, Lee de Forest, Lon Chaney, Mildred Davis, Our Hospitality, Safety Last!, Sam Taylor, Sherlock Jr, The Covered Wagon, The Einstein Theory of Relativity, The Gold Diggers, The Hunchback of Notre Dame, The Pilgrim, The Ten Commandments, Warner Bros.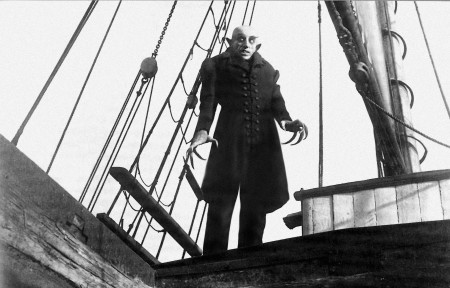 The evolution of film hardly slowed down in 1922. In Russia, filmmaker Lev Kuleshov starting to experiment with a new editing technique called "montage". The technique would be made popular by fellow Russian filmmakers such as Sergei Eisenstein in the upcoming years. Meanwhile in America, the first 3D feature film was shown to a paying audience. In Los Angeles, The Power of Love, which has since become a lost film, used red and green coloring and became the first film to use an early version of 3D glasses.
Tags: 1922, 3D, Bram Stoker, Count Orlok, Dr. Mabuse the Gambler, Dracula, Erich von Strohein, F.W. Murnau, Foolish Wives, Fritz Lang, German Expressionist, Harold Lloyd, John Malkovich, Lev Kuleshov, Little Rascals, Little Red Riding Hood, Max Schreck, MPAA, Nanook of the North, Nosferatu, Nosferatu the Vampyre, One Terrible Day, Rin Tin Tin, Robert J. Flaherty, Safety Last!, Sergei Eisenstein, Shadow of the Vampire, The Cabinet of Dr. Caligari, The Man From Hell's River, The Power of Love, The Testament of Dr. Mabuse, Walt Disney, Warner Bros., Werner Herzog, Will Hays, Willem Dafoe