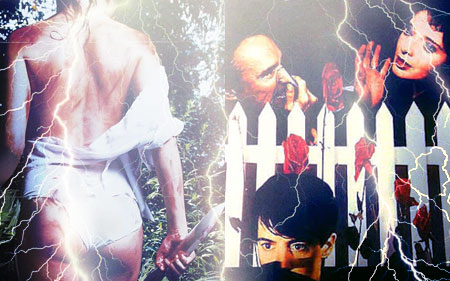 This article will be discussing a number of films known for their explicit violent and sexual content. Reader discretion is advised.

I Spit On Your Grave and Blue Velvet share a number of things in common: Both films controversially depict the victimization of women.  Both films were panned by Roger Ebert on moral grounds for how the victimization of the women was depicted.  Both directors, Meir Zarchi and David Lynch, claim that the controversial content in their films was inspired by a real-life, personal event.  Also, both directors ended up marrying the actresses, Camille Keaton and Isabella Rossellini, who portrayed the victimized women.  (Keaton and Rossellini both came from families already established in the movie business.  Isabella Rossellini is the daughter of Ingrid Bergman and Roberto Rossellini.  Camille Keaton is the grand-niece of Buster Keaton.)
While I will be addressing the general criticisms of Blue Velvet and I Spit On Your Grave, my main focus will be on Roger Ebert's reviews, as he has been particularly vocal in his dislike of both films.  There has been a great deal written about these movies, so taking into account all the possible theories and interpretations would probably take up too much space.  Instead, I'm going to compare and contrast similar movies while using Ebert's reviews to frame the article.  My goal is to determine which of the films actually is most deserving of its scandalous reputation based on its actual content, after cutting through all the external controversy.
Tags: Blue Velvet, Buster Keaton, Camille Keaton, controversial, David Lynch, Day of the Woman, Dennis Hopper, Gene Siskel, Henry: Portrait of a Serial Killer, I Spit on Your Grave, Ingrid Bergman, Isabella Rossellini, Kyle MacLachlan, Laura Dern, Meir Zarchi, Roger Ebert, Sleaze Artists, Video Nasties
Here are this week's new DVD, Blu-ray, and Netflix Instant Watch titles. Obviously, Thursday's Avatar release is the highlight of the week but the overall slate of releases is strong as well. Select films will include their Flickchart global statistics (where available), as well as three direct links to rank the title against similar movies (one good, one average and one bad) to help nail down where the movie belongs on your chart.
New This Week
Avatar – (Thursday, April 22 – Blu-Ray and DVD)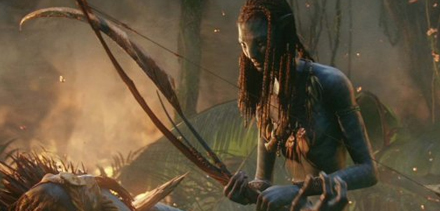 I broke a 32-month theater-free streak to see this one. Yeah, the tickets were free, but the effort of getting off the warm couch on a cold Midwestern Winter morning shows you the influence this one had on casual theater goers (I watch at least 2 movies a day, but usually from the comfort of my house). It's a decent movie, but it's going to be interesting to see how it plays on the small screen when you'll focus more on the story than the visuals. You might want to exercise some caution buying this bare-bones disc, as a four-disc set is coming in November – although apparently there will be special codes in the box that will let you watch all the upcoming special features online over the coming months.
Flickchart's Global Ranking: #1115
Total Times Ranked: 62860
Percentage of Times Won: 64.67%
Users Who Have It In Their Top 20: 730
Directly rank it against (scroll over for match-up):
Good • Average • Terrible
In: New Releases
Tags: 44 Inch Chest, Avatar, Battleship Potemkin, Bill Pullman, Charles Bronson, Christopher Lee, Cillian Murphy, Coen Brothers, Crazy Heart, Crimes of Fashion, David Lynch, Deadly Impact, Dolly Parton, Ellen Page, Emily Blunt, Fargo, Fist of Legend, Frances McDormand, House of the Long Shadows, Indiana Jones and the Kingdom of the Crystal Skull, Jane Fonda, Jeff Bridges, Jet Li, Joe Pantoliano, Joey Lawrence, Kaley Cuoco, Laura Dern, Lily Tomlin, Megan Fox, Melissa Joan Hart, Minority Report, My Fake Fiance, My Life to Live, Nic Cage, Nine to Five, Peacock, Peter Cushing, Rex Harrison, Sean Patrick Flanery, Steve Buscemi, Steven Seagal, Steven Spielberg, Summer Hours, Susan Sarandon, The Glimmer Man, The Honey Pot, The Lovely Bones, The White Buffalo, The Young Victoria, Tom Cruise, vincent price, Wild at Heart, Willem Dafoe, William H. Macy