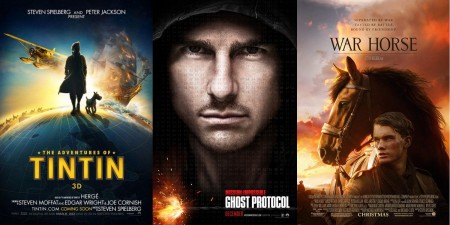 It's only a matter of a few days, but some of this year's holiday movies are juggling their release dates, moving them up in an attempt to better capitalize on holiday theater traffic. Both of this holiday season's films that are directed by Steven Spielberg will be coming just a little earlier.
The Adventures of Tintin - Spielberg's collaboration with producer Peter Jackson, based on the beloved comics character – will open two days earlier, on Dec. 21st. This puts it in direct competition with David Fincher's The Girl With the Dragon Tattoo and the franchise action movie Mission: Impossible – Ghost Protocol, starring Tom Cruise and directed by Brad Bird (of The Incredibles and Ratatouille fame). Ghost Protocol is also getting a jump on the competition, however, as it will now also be releasing five days earlier on IMAX screens in about 300 locations.
Meanwhile, Spielberg's other holiday film, War Horse – about a boy and his horse, separated from each other during World War I – is moving from a Dec. 28 release date to open on Christmas Day. DreamWorks spokesman Chip Sullivan commented, "After seeing the film, it became clear to us that War Horse is something audiences should be able to see when they're together with their families on Christmas Day. They have the time to see multiple movies during the holidays, and we want to be one of their choices when they are most available."
(via EW.com)
It's just hitting U.S. theaters in a limited run this weekend, and director Chris Columbus (Harry Potter & The Sorcerer's Stone, Mrs. Doubtfire, Home Alone) is working towards bringing the Norwegian indie hit Trollhunter to Hollywood.
"Troll Hunter was a visceral, thrilling cinematic rock and roller coaster ride of a movie.  Visually, there are scenes in this film that American audiences have never seen.  We want to introduce an International audience to this amazing moviegoing experience!" said Columbus.
With remakes like Fincher's upcoming The Girl With The Dragon Tattoo, and Matt Reeves's Let Me In, it appears there's no shortage of filmmakers who are jumping at the opportunities to re-imagine the best of foreign cinema for American audiences.
(via Deadline)