Being a dad, a husband, a drummer, a designer, a blogger, and otherwise persistently occupied with Flickchart means having precious little time to get away and plop myself down at a local cineplex for a few hours. I always relish the opportunities to do so when I can and the following list represents the best of what I've seen while sitting in those darkened rooms – eagerly anticipating the next captivating story, special effects that convince me other worlds exist, and the best performances & artistry that Hollywood has to offer.
There are many films I of course still have yet to see from throughout the year, so I'll also do a rundown of some of the ones I missed but can't wait to remove from my own personal "haven't seen" list on Flickchart. Read the rest of this entry »
In: Nathan's Posts
Tags: 2009, 2012, Avatar, Away We Go, best of, District 9, Flickchart, Knowing, Moon, Star Trek, The Hangover, Watchmen, Zombieland
Since our public launch in September, we've grown to well over 40,000 users, and garnered a total of more than 60 million rankings. As we approach the close of the year, and the start of a new decade, we thought we might take a moment to showcase the Top 20 films that our users have deemed to be considered the best-of-the-best from 2000-2009. So without further adieu, here are the best ranked films on Flickchart of the decade:
Read the rest of this entry »
Tags: Alfonso Cuarón, all-time charts, amnesia, Andy Serkis, awards, Batman, Batman Begins, best films, best movies, best of, best of the decade, Best Picture, blockbuster, Boston, Brad Bird, British, Cannes Film Festival, Casino Royale, Charlie Kaufman, chart, Children of Men, Christian Bale, Christopher Nolan, Clive Owen, Coen Brothers, Cormac McCarthy, cult classic, Daniel Craig, Doug Liman, Edgar Wright, Eternal Sunshine of the Spotless Mind, fantasy film, Finding Nemo, Frank Miller, gladiator, Gotham City, Guy Pearce, heath ledger, Iron Man, Jack Nicholson, James Bond, Javier Bardem, Jim Carrey, Jon Favreau, Josh Brolin, Jr., Julianne Moore, Kate Winslet, Kill Bill, Leonardo DiCaprio, list, Lord of the Rings, Martin Scorsese, Matt Damon, Memento, Michael Caine, Michel Gondry, Middle-Earth, music video, New Zealand, No Country For Old Men, Pixar, Quantum of Solace, Quentin Tarantino, Return of the King, Ridley Scott, Robert Downey, Robert Rodriguez, Russell Crowe, Shaun of the Dead, Simon Pegg, Sin City, The Bourne Identity, The Departed, The Incredibles, The Iron Giant, The Two Towers, Tommy Lee Jones, WALL-E, Weta Workshop, zombie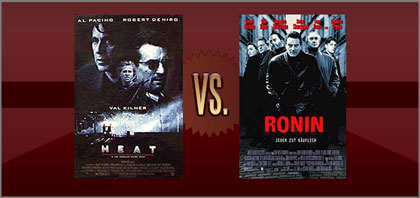 In This Corner…
His career as a director spanned seven decades, starting in the Forties with a small job on an early religious program and ending in 2000 with the action-mystery Reindeer Games. With such meager and lifeless bookends, one might question the abilities of director John Frankenheimer, who passed away shortly after his final film at the age of 93. But as poet laureate for Generation Z Miley Cyrus so eloquently sings, "It's the climb," and Frankenheimer's climb was one populated with a tense body of expertly crafted films that brought action and suspense to breathless new heights. His last great work paired him with a tight script and three brilliant actors for some of the most dizzying and fun car chases this side of The French Connection. But in this week's Reel Rumbles, Ronin has some fierce competition out of Michael Mann, another talented director, with a film that many consider to be his finest hour. A loose remake of his previous made-for-TV effort L.A. Takedown (1989), Heat won the praise of critics and audiences alike, and built a bridge between an overlooked cadre of masterpieces and a prominent career for the director that continues today. Study the blueprints, sync your watches, and get ready for the big score. It's time for Heat vs. Ronin.
In: Reel Rumbles
Tags: 1966, 1975, 1977, 1981, 1986, 1989, 1992, 1999, 2000, 2005, 2006, 40's, 52 Pick-Up, action, agent, Al Pacino, Ashley Judd, best of, Black Sunday, car chases, CIA, cops, crime, David Mamet, Dead Bang, European, Generation Z, Grand Prix, guns, Heat, Hollywood, J.D. Zeik, Jean-Claude Lagniez, John Frankenheimer, Jon Voight, Jonathan Pryce, Katarina Witt, King Kong, Last of the Mohicans, long runtime, Manhunter, Michael Mann, Miley Cyrus, Natalie Portman, Patrick Ronchin, Reel Rumbles, Reindeer Games, Richard Weisz, Robert De Niro, Ronin, Sean Bean, Stellan Skarsgard, stunt drivers, stunts, Ted Levine, The French Connection, The French Connection II, The Good Shepherd, The Insider, Thief, thriller, Tom Noonan, Tom Sizemore, Val Kilmer, Wes Studi