Steven Spielberg has announced he is working with Stanley Kubrick's estate on developing the late filmmaker's project, Napoleon, based on the life of the French Revolutionary leader. Originally written as a screenplay by Kubrick back in 1961, Napoleon fell by the wayside when studios balked at the expense of the project, and Kubrick went on to make Barry Lyndon, which takes place 15 years before the Napoleonic Wars. Now, Spielberg is taking on the project, but to develop it into a television mini-series, rather than a motion picture.
It's not the first time Spielberg has picked up a Kubrick project and run with it: the director's 2001 film A.I.: Artificial Intelligence originated with Kubrick, and was taken on by Spielberg to honor his friend following Kubrick's death in 1999.
Napoleon is also not Spielberg's only mini-series project on the go; we reported in January that Spielberg and Tom Hanks will be producing a third World War II mini-series for HBO. It was also announced in January that Spielberg would be producing a fourth Jurassic Park movie for a 2014 release. Spielberg's next directorial effort remains uncertain, however, after his Robopocalypse became indefinitely delayed.
Spielberg was most recently nominated for Best Picture and Best Director Oscars for Lincoln at this year's Academy Awards. At the end of February, Spielberg was named head of the jury for this year's Cannes Film Festival, which will run from May 15 through May 26.
via Deadline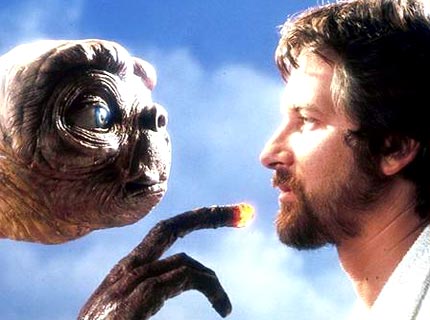 Since last fall's revamping of Flickchart's global ranking system (see the official announcement about that here), many films have found themselves moved around on the global charts. But one thing remains consistent: the Directors Who Dominate continue to do so. Previously covered in this series, Christopher Nolan and Quentin Tarantino remain at the top of the charts (with their highest-ranked films at #1 and #4, respectively.) But the biggest change is that their newest efforts (Inception and Inglourious Basterds) have a much stronger presence on the chart, where they now appear at #2 and #13. And this brings us to another director who continually dominates, the man who is widely regarded (for good or ill) as the father of the modern blockbuster: Steven Spielberg.
Tags: 1941, 1975, 1981, 1984, 1993, 2001, 2005, 2009, A.I.: Artificial Intelligence, Amistad, Best Picture, Box Office, Catch Me If You Can, Christopher Nolan, Close Encounters of the Third Kind, E.T.: The Extra-Terrestrial, Empire of the Sun, film, films, Flickchart, George Lucas, Gremlins, Harrison Ford, Hook, Inception, Indiana Jones, Indiana Jones and the Kingdom of the Crystal Skull, Indiana Jones and the Last Crusade, Indiana Jones and the Temple of Doom, Inglourious Basterds, James Bond, Jaws, jurassic park, Leonardo DiCaprio, Minority Report, movies, Munich, Peter Jackson, Quentin Tarantino, Raiders of the Lost Ark, Richard Dreyfuss, Robert Shaw, Roy Scheider, Saving Private Ryan, Schindler's List, Shakespeare in Love, Star Trek, Star Wars, Steven Spielberg, Super 8, The Adventures of Tintin: The Secret of the Unicorn, The Color Purple, The Lost World: Jurassic Park, The Terminal, Tom Cruise, Tom Hanks, War Horse, War of the Worlds