A common thread that runs through all of Bret Easton Ellis' books is the exploration of hollow persons. People who are generally well-off financially yet dead on the inside, so numb to the world around them that even acts of horrific violence and depravity can't faze them more than momentarily. Ellis has populated his stories with these characters, often set in the 1980s to satirize the excessiveness of the time period. While reading all the books back-to-back is probably not recommended, the author manages to find enough variety and different themes to explore to make them all have some value. If he seems one-note, one does not look closely enough.  Read the rest of this entry »
Tags: 1980's, 1985, 1987, 2000, 2002, 2008, American Psycho, Andrew McCarthy, Billy Bob Thornton, Bret Easton Ellis, Christian Bale, Clifton Collins Jr., Glamorama, Gregor Jordan, Guinevere Turner, Harley Peyton, James Van Der Beek, Kim Basinger, Kip Pardue, Less Than Zero, Marek Kanievska, Mary Harron, Mickey Rourke, Nicholas Jarecki, Robert Downey Jr., Roger Avary, Shannyn Sossamon, The Informers, The Rules of Attraction, Winona Ryder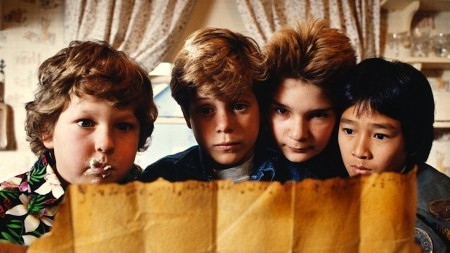 A local theater screens cult favorite movies every other Saturday night and recently played The Goonies. I got to talking with a friend of mine about it, and how it represents the movies of our youth that targeted us as viewers. Looking over the list of films that have played during this midnight series I see Beetlejuice (1988), Star Trek II: The Wrath of Khan (1982), Pee-wee's Big Adventure (1985), Gremlins (1984), The Princess Bride (1987), Ernest Goes to Camp (1987), Who Framed Roger Rabbit (1988), Return to Oz (1985), The Dark Crystal (1982) and Labyrinth (1986). Every one of those movies was released in the 1980s and rated PG. Other films include both Ghostbusters (1984) and Ghostbusters II (1989), the Back to the Future and Indiana Jones trilogies, most of which were released in the 1980s as PG films. I'll grant you that some of these are "lesser" cinematic achievements (Return to Oz will scarcely be discussed in the same breath as The Wizard of Oz), but many are bona fide classics.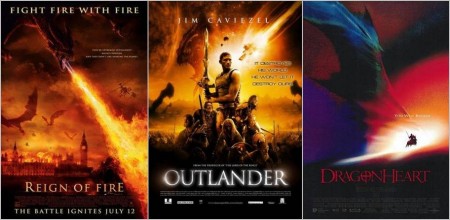 Dragons. Are there any cooler creatures in all of mythology? Unfortunately, in the world of celluloid, these great creatures of imagination have not really gotten their due. (At least, not in live-action cinema; why I have not yet seen How to Train Your Dragon is still beyond me.)
Is there any live-action film in which dragons have truly come off as cool as they deserve? Harry Potter and the Goblet of Fire wasn't too bad, but the dragons aren't the stars. As I impatiently await the day when Peter Jackson brings his vision of the ultimate dragon, Smaug, to life in The Hobbit, I think about other dragon-themed movies that I have enjoyed in the past. None of them are deserving enough to be called "great", but I'm very forgiving of movies I want to like. In one of these cases, I was the perfect age to see a dragon with real presence brought to life on the big screen – even if the movie he inhabited was far from perfect. Without further adieu, I present, in ascending order on my Flickchart, my picks for Guilty Pleasures starring dragons.
In: Guilty Pleasures
Tags: 1996, 2002, 2008, 300, Beowulf, Christian Bale, David Thewlis, Dennis Quaid, DragonHeart, Elektra, film, films, Flickchart, Gerard Butler, Harry Potter, heath ledger, Hellboy, How to Train Your Dragon, Howard McCain, James Caviezel, John Hurt, kevin spacey, Matthew McConaughey, movies, Outlander, Peter Jackson, predator, Randy Edelman, Reign of Fire, Rob Bowman, Rob Cohen, Ron Perlman, sean connery, Star Trek: First Contact, Sucker Punch, The Hobbit, The Lord of the Rings, The X-Files, Vin Diesel