If you missed part one, be sure to catch up at Controversial Clashes: "Blue Velvet" vs. "I Spit On Your Grave" (Part 1).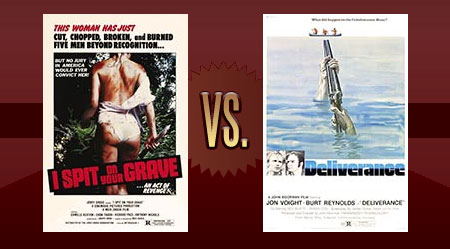 I Spit On Your Grave vs. Deliverance
One of the taglines for I Spit On Your Grave is "More devastating than Deliverance!", which is comparing the scenes of sexual violence in both films.  Even those who haven't seen Deliverance may at least be aware of the film's most infamous scene where Ned Beatty is made to "squeal like a pig" by a hillbilly.  Or have heard the quote "He got a real pretty mouth, ain't he?".  The rape scene in Deliverance is often referred to jokingly in popular culture, however, while there seems to be little humor associated with the rape in I Spit On Your Grave.  Most reviews either condemn the graphic sexual violence as gratuitous and repugnant or earnestly attempt to justify its inclusion as part of the film's anti-rape/feminist message.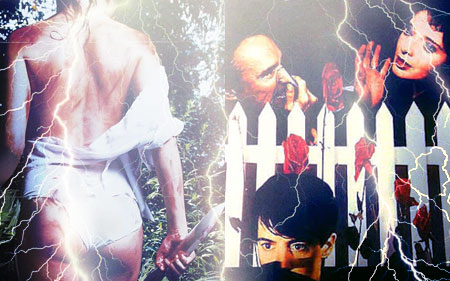 This article will be discussing a number of films known for their explicit violent and sexual content. Reader discretion is advised.

I Spit On Your Grave and Blue Velvet share a number of things in common: Both films controversially depict the victimization of women.  Both films were panned by Roger Ebert on moral grounds for how the victimization of the women was depicted.  Both directors, Meir Zarchi and David Lynch, claim that the controversial content in their films was inspired by a real-life, personal event.  Also, both directors ended up marrying the actresses, Camille Keaton and Isabella Rossellini, who portrayed the victimized women.  (Keaton and Rossellini both came from families already established in the movie business.  Isabella Rossellini is the daughter of Ingrid Bergman and Roberto Rossellini.  Camille Keaton is the grand-niece of Buster Keaton.)
While I will be addressing the general criticisms of Blue Velvet and I Spit On Your Grave, my main focus will be on Roger Ebert's reviews, as he has been particularly vocal in his dislike of both films.  There has been a great deal written about these movies, so taking into account all the possible theories and interpretations would probably take up too much space.  Instead, I'm going to compare and contrast similar movies while using Ebert's reviews to frame the article.  My goal is to determine which of the films actually is most deserving of its scandalous reputation based on its actual content, after cutting through all the external controversy.
Tags: Blue Velvet, Buster Keaton, Camille Keaton, controversial, David Lynch, Day of the Woman, Dennis Hopper, Gene Siskel, Henry: Portrait of a Serial Killer, I Spit on Your Grave, Ingrid Bergman, Isabella Rossellini, Kyle MacLachlan, Laura Dern, Meir Zarchi, Roger Ebert, Sleaze Artists, Video Nasties