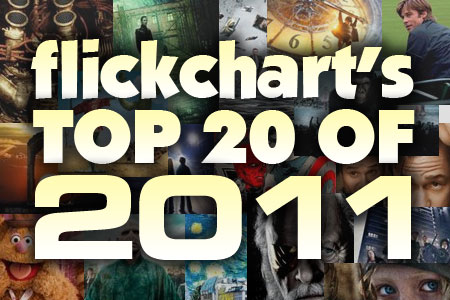 Over 115,000 film fans worldwide have been adding all the movies they've seen from the year onto their Flickcharts and pitting them head-to-head against the best movies of all time. The following list is the product of those rankings – generating a combined list of the best movies of 2011 that are ranked the highest by each and every Flickchart user.
Don't forget too that once you're there, you can further filter the list to get the best of 2011 combined with any of your favorite actors, directors, genres, and franchises. If they seem in need of rearrangement, you can also rank any of these combinations and make sure the 2011 films you've seen are in just the right order on your list. Remember, if you watched and ranked these movies on your Flickchart, you helped to create this list! The higher your favorites of 2011 are on your list, the more you'll be influencing their positions. If you haven't yet, be sure to rank your favorites of 2011 to make changes to this list for the future! 
You can expect some major new features to arrive early in 2012, so keep your eyes peeled for some amazing things yet to come for Flickchart!
Without further adieu – out of 807 total movies released this year – here is your Top 20 of 2011:
In: Flickchart News
Tags: 50/50, Attack the Block, Bridesmaids, Captain America: The First Avenger, Crazy Stupid Love, Drive, Flickchart, Hanna, Harry Potter and the Deathly Hallows: Part 2, Hugo, Midnight in Paris, Moneyball, Rango, Rise of the Planet of the Apes, Source Code, Super 8, The Adjustment Bureau, The Muppets, The Tree of Life, Thor, top 20 of 2011, X-Men: First Class